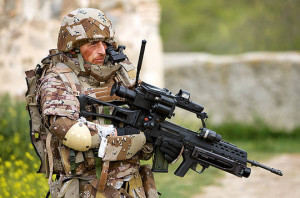 You might have a sweet looking tactical kit sitting in your closet, maybe you've even worn it out on the flat range a few times. Yet how practical is it and have you truly field tested your equipment? If you really put your equipment through the paces flaws could become exposed which might change your opinion about fit, finish or reliability. It might not even have to do with the quality or price of the product, it could be due to your body composition or personal preferences. If the kit/equipment you own was inspired by your YouTube heroes and some anonymous posters on your favorite Internet Forum, it might do you some good to get out there and do a little personal field testing. In order to back up my claim of how important this is, I'll go ahead and share some personal experiences that I have had (read: mistakes I have made) related to specific pieces of equipment I have owned.
Boots: I have plenty of boots, easily 20 pair and some that I have never even worn. One of the biggest mistakes I made was to purchase a pair of cool guy aftermarket boots just because a few friends seemed to like them, but none of them had ever worn them under strenuous conditions. I paid $150 for these specific boots and after the initial excitement wore off the reality set in that these were not for me. Out in adverse conditions flaws in the boot design became immediate and they were quickly relegated to the bottom shelf in storage. I should have stuck with what had always worked for me in the past.
Assault Vest: Sometimes tried and true designs are best and I learned my lesson the hard way. I paid quite a bit of money for an expensive assault vest as I was stuck on the brand name and the very cool design. I paid so much for it that even after I knew that it was terrible I continued to try to make it work. I hated the thing but it was so impractical/bulky and the exact opposite of what I wanted it to be. I ended up going back to a previous design that very much resembled the MOLLE kit issued by our Armed Forces. I have no idea where that vest is now, probably in the bottom of my basement somewhere.
Plate Carrier: You get what you pay for, or do you? Sometimes you get disappointed by what you pay for because you ended up paying too much for something that you will never use. I'm going to dedicate an entire post to a plate carrier review (using two brands) here soon, but the point here is when I field tested my expensive carrier it immediately became apparent that this was not what I needed. It was indeed well constructed and good for flat range duty but for my purposes it just didn't work. I ended up going with a carrier that was about 1/3 of the cost of the original one and tossing my expensive one into a storage bin.
Gloves: I've gone through quite a few gloves lately and have yet to find some that perform as well as simple Mechanix gloves or military issued flyers (Aviator) gloves. Sure I have some cool Oakley gloves, Wiley X gloves and even some A-stars but after considerable time on the range I found that the simple gloves were the best for me. Too bad it took me lusting over cool looking gloves online (and subsequently purchasing them) in order to find out that they weren't up to the task.
Here's the bottom line: Test what you might depend on to protect your life (or even give you a few more points during a competition). Does your kit / equipment fit? How does it hold up when you are running and bouncing around, can you operate all of your systems and is everything positioned in the right place for you to do so comfortably? Just because one guy in a video, on a forum, or even on a blog says that brand X is great doesn't mean that brand X is right for you. Don't make the mistake of solely relying on someone else's opinion or simply not taking the time to field test your own gear.