Have a teenager who is fortunate enough to drive their own vehicle?  You need to make sure they have a Get Home Bag (GHB) too!  Given the circumstances that most teen drivers are faced with such as older cars, a gas light which is perpetually on and the fact that most teens are always broke… a GHB might actually be more necessary in their vehicle than ours.
My daughter has her own car and two jobs which require her to travel around town.  Even with her jobs and the ever necessary "hanging out with friends" she never usually drives further than 20 miles from our home in any one direction.  Still yet I have made sure the trunk of her vehicle is stocked with a GHB and AAA Roadside kit.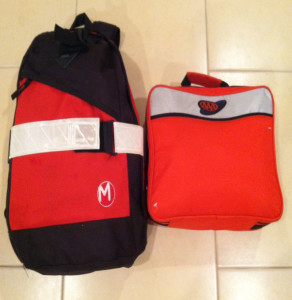 I had to identify a few constraints when building her GHB, as she is obviously not built like me nor is she legally allowed to carry a pistol for self defense.  Some of those limiting factors were:
Weight.  The bag had to be small and light, something she could easily carry for a distance of up to 20 miles.
Weapons.  No pistols allowed obviously, and that also means no spare ammunition.
Experience level.  Tossing in lots of gadgets and doo-dads which I might be able to use would not be of value to her, everything had to be straightforward and practical.
The good news is that she truly is never *that* far from home at any one time, so the main goal was to provide her with enough equipment to be able to (a) survive stranded in her car for a many hours in the event of a massive storm or (b) be able to walk home over the period of a day if T-SHTF in a major way.  I also wanted to be able to provide some self defense items which you will see pictured below.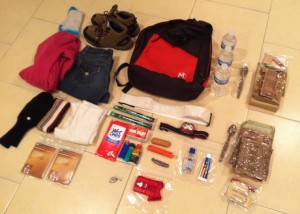 From top to bottom and left to right the list of contents includes:
Wool socks
Sturdy Boots (which she has worn and broken in)
Lightweight Backpack
Water Bottles (3)
MRE's (2)
Sweater
Jeans
Reflective Belt
Chem Lights (2)
Headlamp with red lens
Roll of Quarters
Folding Knives (2)
Hand Sanitizer
Anti Bacterial Cream
Rain Ponchos (2) One to wear and one for shelter
Wet Ones wipes
Pain pills
Lighters (2)
5 Hour Energy
Whistle
I really like the Kimber Pepper Blaster for a self defense item although I have told her that a whistle is probably her best line of defense against creepers.  In the event of a long walk home after T-SHTF she knows to stay out of sight and avoid the populace which would help to minimize her exposure to evil doers.
In addition to the GHB I have made sure to stock her trunk with the ubiquitous AAA Roadside Emergency Kit for not-so-SHTF type events such as needing a jump or tow.  I do like the fact that the kit has basic first aid supplies in it, which is why I did not include them in her GHB.  She can transfer as necessary obviously.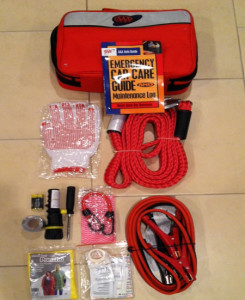 So there you have it, make sure your teen drivers are prepared because this is definitely not a task most would take on by themselves!