I pretty sure I've mentioned this before but I'm a self admitted flashlight junkie.  I like big flashlights, medium flashlights, small and micro flashlights, headlamps, tactical lights, weapon lights and even those Q beam lights that plug into your car cig lighter.  I think it's a dude thing and many of my friends also enjoy purchasing and tinkering with flashlights, secretly hoping for the power to go out or for the moment when someone says: "does anyone have a flashlight?"  Why YES!  Yes I do!!
I took a lap around the house and stuffed various flashlights into my sweatpants before setting them on my freezer and taking a picture (laid out like a gun collection).  Keep in mind this does not represent all of the flashlights I own, just a sampling.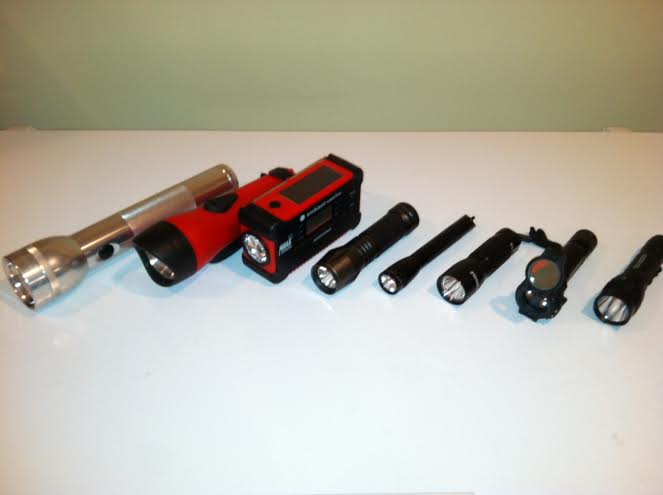 A quick glance at the sampling will reveal a a couple Maglights, some cheap-o auto parts checkout lane impulse buy models and a few dedicated tactical lights.  Second from the end on the right is an older Surefire with a flip up lens cover (red lens), I don't even remember what model it is but until recently it was my most durable / expensive light.  Surefire are known for outstanding build quality and durability in combat operations but in my search for a new light I made a choice not to spend another $150 to $200 in the process.  If you recall, I recently spent a few bucks purchasing some glove box tac lights for each of my vehicles but still needed a new "go to" light.  The Surefire with red lens would be relegated to my BOB, the new light would go on my person or in my EDC backpack.  Enter the Streamlight PROTAC HL, purchased for less than $70 online.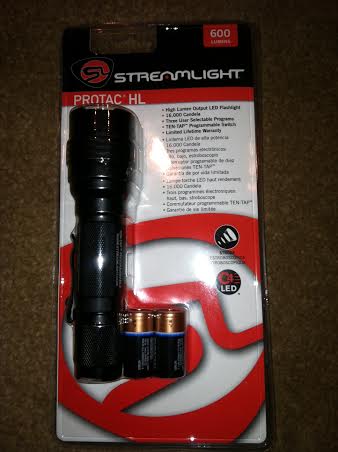 Some of the stats for the light are as follows:
C4® LED technology, impervious to shock with a 50,000 hour lifetime
3 light output levels:
High – 15,000 candela peak beam intensity, 600 Lumens, 1.25 hours runtime
Low – 800 candela peak beam intensity, 35 Lumens, 18 hours runtime
Strobe
Multi-function, push-button tail switch for one-handed operation
Optimized electronics provides regulated intensity
Durable anodized machined aircraft aluminum construction
Anti-roll head prevents the light from rolling away when you set it down
Removable pocket clip
O-ring sealed glass lens
IPX7; waterproof to 1 meter for 30 minutes
Uses two 3V CR123A lithium batteries (included)
Barrel diameter: 1.0″ (2.54 cm)
Length: 5.25″ (13.36 cm)
Weight: 5.5 oz. (156g) with batteries
Limited lifetime warranty
Initial Impressions.
Fortunately the light was packaged nice and tight with that plastic which is heat formed so you need a circular saw and PhD to cut through it.  After screwing around with it for a bit I managed to free my new toy and was immediately impressed at how the cold aluminium felt in my palm.  I inserted the two Duracell CR123A batteries and set about trying the different modes out.
3 Modes, Kinda cool but…
Ok so this light has 3 modes – high, strobe and low.  The instructions say that you have to tap and then click and lock on for high, fast double tap (within 0.4 seconds) and hold, click and lock for strobe, and you guessed it fast triple tap blah blah etc etc for low.  Seems to me like there could have been an easier way to make this happen but in no time I had it figured out, maybe.  I'm not sure how I would feel having this mounted on the end of a weapon, wouldn't want to get excited and key the wrong setting.  In any event I have dedicated weapon lights for that so no worries, this will strictly be a handheld light.
The Holster or Clip Option.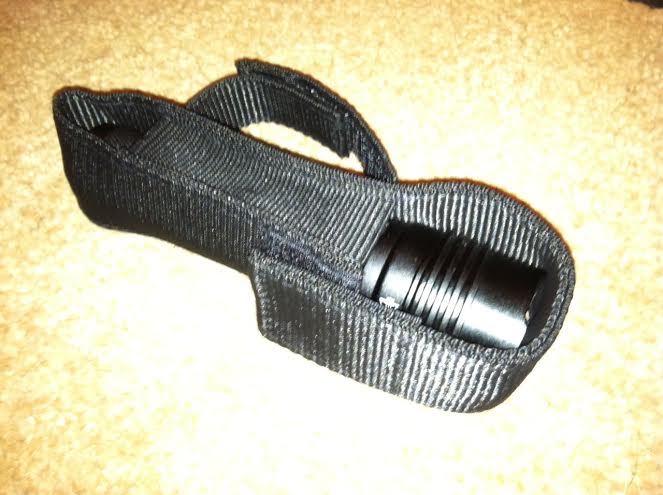 This light is a good size and I like it that way.  However this is not something that you would shove in your front pocket, unless you want the feeling of having a full sized tube of frozen tooth paste in your pocket (there's a joke in there somewhere).  The bottom line is if you plan on carrying this light around and not keeping it in a bag like I will, you'll need to use the supplied holster or belt clip.  The holster is sketchy at best (read: flimsy) but as long as the velcro holds it should be legit.  I like the fact that it has velcro for attaching to your belt instead of a sewn loop which would require one to pull a belt all the way out before weaving it into place.
The Sun in your hand.
The Streamlight  PROTAC HL is BRIGHT, it dominates my old Surefire but that's not a fair comparison.  I'm sure newer Surefire's are just as bright but however you figure it 600 lumens is nothing to be scoffed at.  I have several 300 lumen weapon lights which are mounted and the PROTAC HL is noticeably brighter.  I would not want to be on the receiving end (unsuspecting or not) of this beam of sunshine.  The good news is I practiced "clearing" a few rooms with the light in complete darkness and was not negatively affected by spillage or reflection due to the brightness of the 600 lumen beam.
Run time.
I haven't had a chance to test this out but the stated run time is 1 hour and 15 minutes on high, that's pretty good given the illumination it provides (up to 253 meters).  On low (33 lumens) the stated run time is 18 hours, most of us would use that inside a tent I suppose.
The Bottom Line.
I have lots of flashlights as I previously stated and I'm sure most of you do as well.  You owe it to yourself to have at least one dedicated (solid and well built) tactical light.  For the price the Streamlight PROTAC HL is tough to beat.  Some Surefire advocates will always state that you get what you pay for and cost is no factor when a life depends on it, but if that's the case why do most of us carry $500 Glocks instead of $3500 custom 1911's?