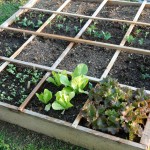 We all have our strengths and weaknesses.  Quite often most of us are very willing to talk about our strengths (i.e. I'm so awesome), after which we try to list out pseudo weaknesses which are really a strength in disguise.  You know it's true, think about that time when you sat in an interview and told the HR person: "Yes, one of my weaknesses would have to be that I just work too hard, I'm just consumed by dedicating my life to my job…"  Right.
I'll just come right out with it and admit that one of my weaknesses is growing food, or cultivating a sustainable food plan beyond what I have on shelves (read: non-renewable) in the basement.  Ask me about fitness, tactics, prioritization, how to influence people, enduring freezing temps while wet and tired, tips for bartering…I'll lay it out for you like it's my job.  Ask me to plant a garden in order to grow food which I can put on the dinner table and I'll probably hang my head in shame.  This is not for a lack of effort (somewhat), I have loads of books on gardens/farming/off grid living and buckets full of seeds just waiting to go into the ground.  For whatever reason (maybe I was busying cleaning one of my guns) I never got around to working the soil and making something actually happen.   My dad would be ashamed of my city slicker life considering he did grow up on a farm, I can't tell you how many stories I've heard about "slopping the hogs" and working in the field.  Fortunately for us my wife is less lazy than I, and she took it upon herself to do the family a solid and get the ball rolling.
My wife did some research and decided that raised bed gardening, or Square Foot Gardening, would be the best option for our current location.  Alas we aren't on 20 acres of land with a dirt road to our home (yet).  We reside in the hell that is suburbia, complete with HOA fees, neighborhood pools and homes that look as if builders took a bet to see who could build the best looking homes for the least amount of money.  Don't fault me, I wasn't always a prepper.  🙂  The good news is that the mortgage crisis hit at just the right time, ensuring that if I do sell my home and move to the redoubt anytime soon I'll barely break even or probably lose money.  Awesome!
So what are we attempting to grow?  Food that we will eat of course, as it should be.  Cucumber, Zucchini  Tomato, Cilantro, Spinach and Lettuce.  Currently some of the seeds are planted indoors and after a specified time she (or shall I say we) will transfer them outdoors to the raised bed garden.  Many of the ideas which we are implementing were gleaned from the book Square Foot Gardening by Mel Bartholomew.  Check out this video for more information.
If anyone has any tips, advice or general comments for the good of the order please do not hesitate to add them in the comment section.  I do anticipate some problems, there are rabbits which nest in or around our yard but our terrier seems to kill (and leave them on the porch as a trophy) or chase away most of them.  I'm sure bugs will be an issue too but we'll just have to live and learn.  Throughout the year I will make updates as to our progress, wish us luck!