By The Maj
Let me start this review by saying that I have never been a big fan of pocket sharpeners. I like to keep a very tight edge on most of my blades and in my experience most, if not all pocket sharpeners are only good for a 23 to 25 degree edge on most blades. Typically, my functional knives (pocket knives, multi-tools etc) have a 20 degree edge and my detail knives (filet and deboning) are kept at around 15 degrees. In order to get those degrees you have to be able to adjust the knife to the sharpening surface or adjust the sharpening surface to the knife depending on what type of system that you are using.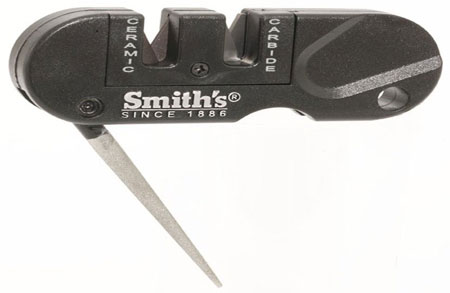 With that said, let's look at the specifications for the Smith's Pocket Pal:
Length: 3 ½ inches
Width: 1 inch
Weight: 1 ounce
The sharpening system for straight blades is a two part system consisting of carbide sharpening rods for very dull blades and ceramic rods for honing/fine tuning blades. Both sets of sharpening rods are reversible and replaceable but there is not an adjustment for the angle of the rods and given the compact design there is not enough room to adjust the knife blade to the rod groove. For serrated edges the pocket sharpener has a fold out, tapered diamond file. The only other feature for this simple, compact, pocket sharpener is an integrated lanyard hole which allows the user to attach it to gear or a belt loop.
The first time I came into contact with the Smith's Pocket Pal knife sharpener, I was on a hunting trip with a close friend. He had purchased the sharpener to keep in his bag in order to keep from having to carry a stone and he is also a big fan of serrated edged knives. When he broke the sharpener out in the cabin, I immediately asked to see it because I thought it was a new pocket knife. As I inspected it, I was impressed with the compact design and light weight but when I took my knife out and just laid the blade into the carbide groove, I could tell that the angle was more than 20 degrees. I handed the sharpener back and he proceeded to run the blade of his skinning knife through the carbide groove and when he checked it after a few passes, he proclaimed that it was actually making the knife dull. After he toyed with the sharpener for a little longer, I retrieved a pack axe from my bag and ran it through the pocket sharpener to show him the difference between angles because the sharpener actually worked on the pack axe which had a thicker blade. Frustrated, my friend retrieved the stone we always keep in the cabin and went to work on his knife.
I was still intrigued by the little pocket sharpener, so I asked my friend if I could take it home with me and give it a try. Since he had paid less than $10.00 for it and it did not work for him, he gave it to me. I was looking at the sharpener from a different angle than my friend and I thought that it might actually have some uses in a bugout situation. When I got home, I took some old pocket knives that were very dull and ran them through the carbide rods until the blade adjusted to the 23 degree angle of the rods. Thicker blade knives adjusted quicker than the thinner blades, but each blade eventually worked into a decent edge. I then ran those same blades through the ceramic rods and since they were adjusted to the angles of the rods at this point it did not take long to hone the edges to a workable condition. The edges would definitely not impress a knife aficionado but they were definitely better edges than when I started. I also ran two machetes, a hatchet, and spear point through the carbide rods during my test run and as I had demonstrated to my friend earlier, the thicker blades on these items benefited from the 23 degree angle of the sharpening rods.
Next, I moved to the fold out, tapered diamond file that was part of pocket sharpener and worked out two serrated blades and a pack saw. The diamond file worked on all three, but as with any file work I had to be patient and careful as I went. While the file worked, I was not overly impressed with the attachment of the file to the pocket sharpener and even though it did not break during my tests, it would not have surprised me if it would have. The file has fine threads that screw down into a plastic pivot arm and with repeated use that pivot arm will give way. On my test model, the plastic around the threads discolored after sharpening those three items, which is a sure sign of plastic fatigue and eventual breakage. However, even if the file does break loose, you will still have the file which you can still use.
Based on my tests, the Smith's Pocket Pal sharpener gets mixed reviews from me. On the one hand, no sharpening system will ever replace a stone for me, so I would not purchase it when considering it in an everyday use perspective. However, in a survival situation, I believe this little pocket sharpener does have some value. It is compact, light weight, and works on straight blades, heavy blades, serrated blades and wide tooth saw blades. After my tests, I purchased three (one for the bugout bag, one for the vehicle and one to fit in a knife case) for bugout situations. At a price of less than $10.00 they provide options for when a stone may not be available.