By: JM @ Sole Labz
Smart prepper's guide to choosing the best tactical boots
Navy Seals have a saying: "There are two ways of doing things, the right way, and again". Smart preppers know, however, that SHTF scenarios leave no room for do-overs.
Your top sidekick in all-hell-broke-loose scenarios is a good pair of tactical boots. Call me crazy, but you're only as strong as your feet in a bug out situation. Better make those two soles and a bit of leather count since all of your agility, speed and overall performance will depend on them.
Being on your toes equals being ready, like a racer itching for that gun to go off. It means you'll have a proper response no matter what happens, and that's what prepping is all about for me.
Your feet are a crucial bug-out tool
Benjamin Franklin said that an ounce of prevention is worth a pound of cure.
As I see it, a large part of prepping IS preventing. Not to mention there is no "cure" when bad times catch you with your pants down.
Bottom line – no matter how good of your bug out plan is and how safe your potential refuge is if your feet can't take you there. So, let's make sure that doesn't happen.
What to look for
Good tactical boots should keep all feet maladies at bay (blisters, plantar fasciitis, sore spots…); protect you from the elements, the surrounding terrain and possible toxic spills. They should feel like second a skin whether you're darting through a concrete city labyrinth or taking a slow rural hike to your shelter for bugging out.
Most importantly, they must be a good fit to your scenarios, so what we'll do in this guide is go through the types of tactical boot and analyze the potential scenarios and surroundings it's right for.
With those criteria in place, we can tackle tactical boot types and situations they "live for".
Let your tactical boots "rise to the occasion"
Military or tactical boots have gone a long way from combat hotspots around the globe to civilian feet.
Well known for their rugged build, they offer superb protection without sacrificing the functionality. They were made to fit the needs of soldiers/marines in terms of war and that speaks volumes about why they should be one of the paramount of your bug out plans.
Let's go over basic types…
Standard issue tactical boots
This combat boot is manufactured from waterproof, hardened leather. It's designed for extra ankle and foot stability on the nasty terrain, encountered often during training or combat. They also offer good foot protection and grip.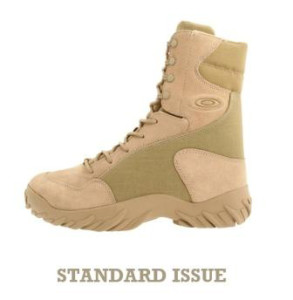 The first known combat boot comes from foot soldiers of Ancient Rome. Their hobnail boots were named caligae.
In the USA, infantry regiments of the war of 1812 wore calf-high combat boots. Until American Civil War, ankle-high boots made of lasts were issued. There was no left or right boot, rather, they molded to the feet of the wearer over time. Needless to say, they were a pain to wear. Jeff Davis boots were introduced in 1858, and that's where our story really begins.
These would be your jack-of-all-trades among tac boots. They'll do just fine if your main concern is dreadful terrain standing between you and safety.
Jump boots
Standard gear for airborne forces and paratroopers, they were first introduced during WW2.
The US Original M1942 "Parachute Jumper" featured reinforced, rigid toe caps and extended lacing. This was aimed at providing better support for toes and ankles during rough landings. They're often laced in cobweb or ladder style for even more ankle support.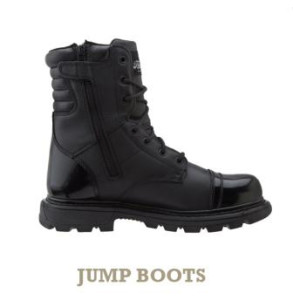 They were developed simultaneously in numerous countries, but as far as the USA goes, it all starts with William P. Yarborough. He designed them for 501st Parachute Test Battalion in 1941.
As far as prepping goes, these will offer excellent protection from rugged, uneven terrains that'll cause you to jump constantly from one area to the next. They'll be lifesavers if your bug out includes a parachute jump and terrible if you take off on a longer march. They are heavier and less flexible than standard issue, especially if they're cold or still breaking in.
Tanker boots
They saw mass production back when George S. Patton was still a captain.
Their main thing is using straps instead of laces. That made sure nothing will get caught into the moving parts of the machinery. It also comes handy when you're sprawling through dense bushes or area filled with tree roots and branches.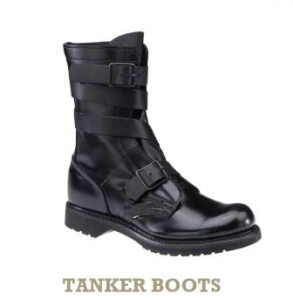 They're almost fireproof, so if high temperatures are a part of the scenario… The material is leather, so toxic chemicals won't reach your feet in case of a spill.
They feature gusseted tongue, so no debris will get inside. Steel toe guards are also there for extra protection paired with steel or plastic guards for shank and heel. Metal inserts are in the sole ensuring perfect pierce resistance.
Tactical boots for extreme weather
War is always about location, reaction time and preparedness. Here are some combat boots that'll give you an upper hand when temperatures go sky-high or sub-zero.
Jungle Boots – Made before WW2 in Panama. They weigh aprox. 3lbs and were designed for optimal drainage while keeping insects, sand and mud out. They don't keep the water out but drain it through the eyelets and dry up really fast afterward.
They saw the battlegrounds of WW2, Vietnam, 1st Indochina war, Operations Iraqi Freedom, Desert Storm, Enduring Freedom…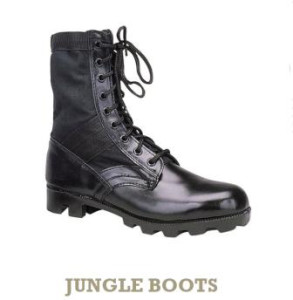 So, if you're running for your life through jungle-like areas, these are your ticket out. They'll also do nicely in cold weather since you'll be insulated from the ground by breathable insoles.
Desert boots – An improvement on Saudi Arabia recipe made by Norman Schwarzkopf.
They are made of rough suede and feature nylon siding and laces. The thread pattern is Panama-styled. There are no steel plates or drainage vents, which prevents heat retaining and sand from getting in.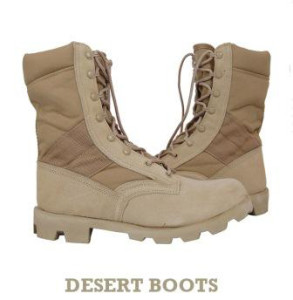 Iraq and Afghanistan come to mind as perfect examples where US forces used these.
They'll keep you running in high temperatures without much maintenance. Bottom line, if desert or some tropical areas are your bug out chess board, these are the way to go.
Military boots for extreme cold- There's not a single positive way cold weather affects our feet. Plenty of negative ones, though.
This is where we want proper insulation provided by GoreTex. It's a waterproof Teflon-coated membrane with microscopic pores for breathability.
They can also feature insulating layers made of wool, rubber or felt, depending on the model and purpose.
Let's wrap up this run down of tactical boots
I learned a long time ago that ill-preparedness always gives birth to despair once the disaster strikes; it doesn't care whether you're counting on it or not or whether you're ready or not. It just happens.
I'll leave you with one of the great truths of life: "Unspectacular preparation is always followed by spectacular achievements".
Stay safe