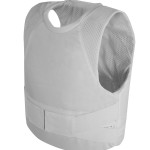 I was recently contacted by a representative from Safeguard Armor, he asked if I would like to review their Stealth Body Armor.  I've written body armor and plate carrier reviews in the past, but have never reviewed any concealable armor.  Truth be told the concealable armor is much more practical and can be used on a daily basis, whereas the tactical rig with ceramic plates remains dedicated to range duty and will stay in the closet unless full on WROL breaks out.  Keeping all that in mind I gladly accepted to opportunity to review their product and took delivery of it earlier this week.  I know that some of you might have an interest in this type of practical protection, so hopefully this review sheds light on a few things and answers some of your questions.  The plan is to do my initial write up here and then follow up with a long term write up later this summer or fall.
The product I received was a size large Stealth vest outfitted with Level II Ballistic protection and Level I Edged Blade protection. The cost of the carrier (vest) is listed as $96, with Level II Ballistic protection (+$275) and Level I Edged Blade protection (+$105) the total retail price for this item comes in at $476 plus tax and shipping.
An overview of the product follows as such:
100% DuPont™ Kevlar® armor panels.
CoolMAX® outer vest carrier.
Weight: 2.5kg depending on size.
A protection level chart from their site helps to sort things out, and in case you are wondering a size chart as well as warranty and care information can also be found on the Stealth page.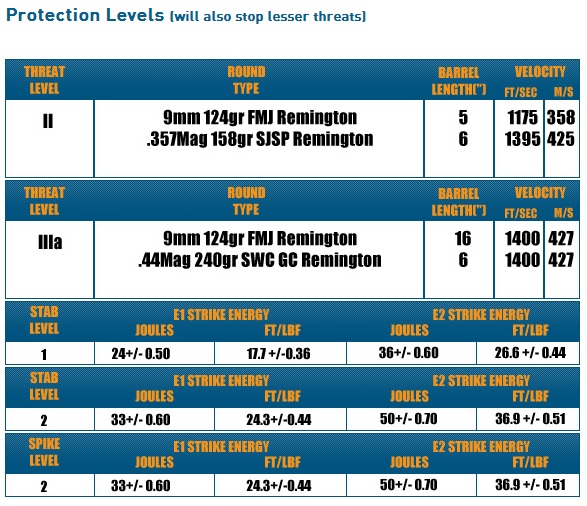 Stealth Concealable Body Armor Initial Review
First Impressions
I wouldn't be lying if I said that I was a little underwhelmed when I first opened the bag which the armor was shipped in.  This is not meant to be negative in any way towards the company, I guess I was so pumped to review the product I was expecting a bit more.  I zipped open the bag and there it was in all its glory, a black vest with two side straps.  Shame on me for expecting more, but I am a fan of marketing flair (stickers, manuals, cool pictures, flyers, and more stickers).
Despite my unfounded disappointment I set about checking the vest out.  The first thing I noticed was how light it was, I'm betting a child could wear the vest all day and not have a problem with it.  The shoulders are a mesh material (think football jersey) with a comfortable neck ring sewn in.  The entire inside of the vest is also mesh material which is quite comfortable, even against bare skin.  As previously mentioned there are two adjustable side straps which use hook and loop fasteners to secure on the front of the vest, I like the fact that the straps are doubled up on each side for added strength.
The vest has two ballistic panel inserts, one in the front and one in the back.  The panels are removable for cleaning, which is easy because you simply wipe them down.  The carrier (vest) gets tossed in the washing machine (I did this after sweating all over it) and likewise has no problem going through the dryer.  I did notice that if you don't get the hook and loop pockets closed just right after inserting the panels, it can protrude a bit which could cause slight discomfort when worn.  I'm happy to report that is something I sorted out after a few attempts.
Fit Test
The first thing I did was to put the vest on to check the fit against my body.  The armor fit well, covering all the vital organs and leaving myself plenty of room to maneuver.  It took a few attempts to get the straps hooked in so I felt comfortable but that really wasn't a big deal.
Comfort Test
Since this is an initial review I thought a good way to test for comfort would be to conduct some physical training, times like these are when flaws are usually exposed.  You might think that a set of $150 boots and $15 socks are the best thing going, but 3 miles into a hike your feet might be screaming bloody murder.  You have to field test your equipment to see if it will hold up under pressure, so that said I decided to do one of my living room workouts.  I figured 500 repetitions should produce a good lather and expose any previously missed comfort issues.  100 burpees, 100 situps, 100 pushups, 100 leg raises and 100 squats achieved the desired result.
A few things I noticed during the comfort test.  I really liked the soft neck ring which is stitched into the vest.  When doing my situps the vest tended to "ride up" a bit and that meant that my neck kept rubbing against it.  There was no discomfort in this at all, and I guess that could translate to long term comfort in a daily use situation.  The last thing you want is a vest which rubs pieces of your body raw because the fabric is poorly designed.  The interior of the vest was comfortable throughout the entire event as well, the breathable mesh was outstanding and really help as I progressed through each exercise.  I would imagine that during a hot summer day that fabric would come in very handy.  The only issue I had was the tightness of the vest as my breathing increased (read: sucking wind), but that is just the nature of the beast for something like this.  Overall the vest did very well during my improvised comfort test.
Everyday Wear Test
After washing the vest carrier and wiping down the inserts I decided to wear it around for a day while running errands.  This is where I ran into a few issues, and they all have to do with how I like to carry my pistol.  For now I carry a Glock 19 in a Crossbreed IWB holster, a method which is very comfortable but as I found out somewhat incompatible with the Stealth Vest.  Instead of writing paragraphs about it I'll just post the pictures.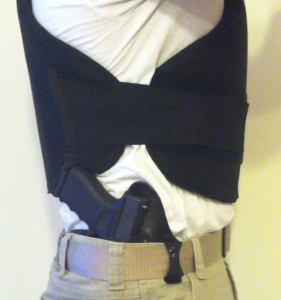 From the side the issue becomes apparent.  The bottom of the vest comes in contact with the grip of my pistol, making it somewhat awkward to wear.  The pistol grip pushes up on the vest, something that is definitely noticeable when worn.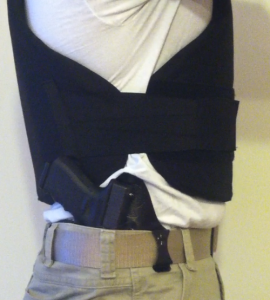 Here's a possible solution, reach down and tuck the vest underneath the pistol grip.  While this does work as soon as you bend over or reach around for something the vest has a tendency to once again get "caught" on the bottom of the grip.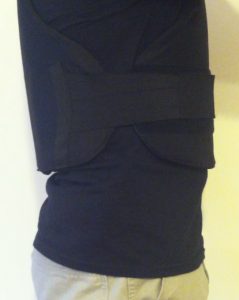 Here's the problem, I typically don't wear white T shirts, nor do I tuck in my shirt when wearing my EDC rig.  As such I am left with the situation pictured above.  The vest can potentially slide over the top of the pistol grip (which is hidden under my shirt) but even still, if I bend over or reach down for something it still gets hung up occasionally.  Very annoying and uncomfortable but I should mention this can totally attributed to the combo of my EDC choice and vest.  If I used an OWB holster I'm betting the problem would not be as pronounced.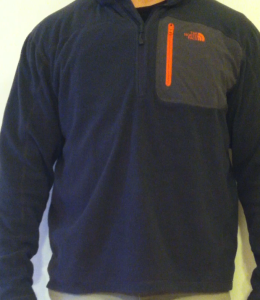 This is the final layer, a simple fleece which I wore on top of everything.  With the combination of a black shirt (so the black of the vest around the neck would not stick out) and an over-garment there is really no way to tell that I'm wearing the Stealth Body Armor.
Summary
Pros
+ Extremely lightweight
+ Mesh fabric is very comfortable
+ When using the right combination of clothing, great ballistic protection which is very concealable
Cons
– Cost can be prohibitive for some, $500-ish for body armor isn't exactly chump change.
– Depending on how your EDC rig is set up, might need to make some adjustments to get it to fit properly
– Hook and Loop on the inside takes some practice before getting it to close completely flush (for comfort)
Overall
The Stealth Concealable Body Armor by SafeGuard Armor is a great product, one that I would highly recommend to anyone seeking some additional piece of mind when out and about in areas where danger could be more prevalent.  Or you might just want to purchase one of these vests for SHTF and stick it in your closet, although they are a little spendy they are still cheaper than a full tactical combo (plates, carrier).  Not only that, because the vest is so lightweight it probably wouldn't be an issue for most to wear it during a bugout on foot.  A vest like this should definitely not be one of your first purchases as a prepper, but if you have most of your other preps squared away/prioritized this piece of equipment would make a great addition to your stash.