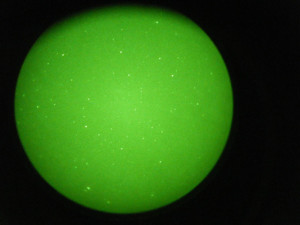 We've all seen it touted out there, that during any type of bugout scenario one should only move at night, as in moving during daylight hours is completely off the table as an option.  Wrong.  Not only will that course of action probably cause one more trouble than it's worth, it would increases the probability of injury or even death (versus moving during daylight hours).  Before you immediately scroll down to the comment section in order to blast away at my theory, citing your military experience,  I realize that our military "owns the night."  They strike targets at night with ridiculous precision with weapons launched from miles away.  Shadowy figures insert themselves under the cover of complete darkness and take down high value targets in well rehearsed fashion without making a sound.  Even conventional forces use night vision and other accessories to gain a significant advantage over their enemy.    Now think about what I just wrote and walk over to your family portrait which is hanging on the wall in your living room.  Do you see a group of people with years of fighting experience who constantly train to remain proficient in night operations, and oh by the way do those people have the intelligence and logistical support which comes with being in the world's best military?  Right now I'm picturing my wife stumbling through the woods with her bugout bag on, PVS 14's slipping down her head while she bumps into trees.  Not the best case scenario, not to mention purchasing PVS 14's for the entire family is simply out of my price range.
Here's the deal, I have advocated moving at night and do still find value in that course of action but recommend it only if the situation were to demand doing so.  If I were traveling alone moving at night would become much more of an option, even without the assistance of NVG's, but again only if the situation demanded it.  If I were traveling with my family and possibly other members of a group, moving at night slips down the bracket to "only if no other options exist."
For all those who advocate that you should only move at night during a bugout scenario, here are 7 reasons why that is a really bad idea.
1- Your group will become separated:  Even well trained military forces have this problem while out on patrol, how much more when everyday citizens are attempting to move under the cover of darkness? Maybe your survival group meets once a month to do a few drills and you've gone over some movement techniques, you feel confident because after you give the hand signal for "fire team wedge" everyone moves into formation while walking through a field.  Now the TEOTWAWKI has occurred and you have been walking for 2 days, it's dark but you insisted everyone should move at night while busting through some pretty unfriendly terrain to avoid detection.  You give the hand signal but it doesn't get all the way back, it doesn't even make it two people back because nobody can see it (or they are too tired to care).  You relay up to the point man via your highspeed 2 way radio that you need to adjust your heading by 10 degrees for 2k meters.  30 minutes later you stop to do a headcount and….
2- You will become lost:  Piggybacking on the #1 reason, not only will your group become separated you will most likely become lost while moving at night.  Remember, in addition to only moving at night the other rule most often touted is to stay off the roads and natural lines of drift (read: take the path less traveled to avoid detection).  If you've ever tried to navigate when it's so dark that you can't see your hand in front of your face you'll know it's a daunting task.  Now raise that difficulty level by 10 because you have family members with you, all wearing heavy gear and with feet that ache because they've never walked more than 50 feet in those new boots you got them for Christmas two years ago.  There have been times when, attempting to reach a destination in daylight hours, I was CERTAIN I was dead on with my pace count and that my use of terrain association lined up perfectly with what was displayed on my map.  This only to arrive at my "destination" with a confused look, where was I?  This isn't right, where did I go wrong?  That scenario, accompanied by a sinking feeling in the stomach, can happen to anyone and frequently does.
3- You are only as good as your weakest link:  Maybe you have tons of military or law enforcement experience, and so do a few others in your group, but what about the family members?  Even if you have night vision and PEQ 15's for every single person who is walking along, you'd better tie a rope to everyone's waist line or #1 and # 2 will surely take place (most likely on the very first attempt to move at night).
4- You cannot see hazards:  Again we are assuming that you are not walking down the abandoned highway, but rather busting brush in order to avoid detection.  Tree roots, holes in the ground, and large rocks are all potential hazards which simply cannot be seen at night when trudging along.  Add to that the ever present element of fatigue and the chances of slipping and falling multiply ten fold.  Now you've got someone who you need to transport by litter, the situation just got worse.
5- Light and noise discipline:  Have you ever been sitting out on your back deck/patio at night and heard people talking in your neighborhood?  They are out there somewhere, maybe 5 houses down just hanging out by their grill and talking but you can hear them as if they were 20 feet away.  If it were daylight you probably wouldn't be able to discern their conversation as well, if at all.  For whatever reason sounds seem to travel farther at night and this could lead to the detection of your group when your child starts crying because he/she tripped and fell.  The same goes for light, someone switches on their GPS, cycles through their headlamp or lights a cigarette and that flash of light can be seen for quite a distance assuming a direct line of sight exists.
6- You move much slower than normal:  You'll probably travel half the distance you would during the daytime, assuming you can stick together and someone doesn't snap an ankle.  Not an optimal pace if you have quite a long distance to travel.
7- Missed foraging opportunities:  Your guide to wild edibles probably won't be as useful if you are trying to find plants to eat when it's pitch black outside.
I'll wrap it up by restating my theory.  There is value at moving at night but it should only be done if absolutely necessary.  Otherwise you are asking for a host of problems which could potentially put the group at greater risk versus moving during daylight hours.  Absolutely under no circumstances should a rule which states "we only move at night" be part of a group doctrine, unless your group gets paid to take down HVT's for a living.