Each person must decide for themselves what is best when considering what to EDC.  When you leave the house each morning are you spartan in nature, maybe a pocket knife and a lighter complete your loadout?  Or do you reside on the other end of the spectrum and have what essentially amounts to the contents of a Bugout bag stuffed into all of those handy 5.11 pockets?.  Whatever your persuasion is with regards to an EDC philosophy there are a few items which I hold in high regard and believe should be on everyone's "must carry" list (where legal of course).  Keep in mind that I carry these items in addition to maintaining a survival or get home bag in my vehicle at all times, thus lessening the necessity to tote a bunch of gear around on my immediate person.  Having stated all of that what follows are the 5 essential EDC items which I never leave home without.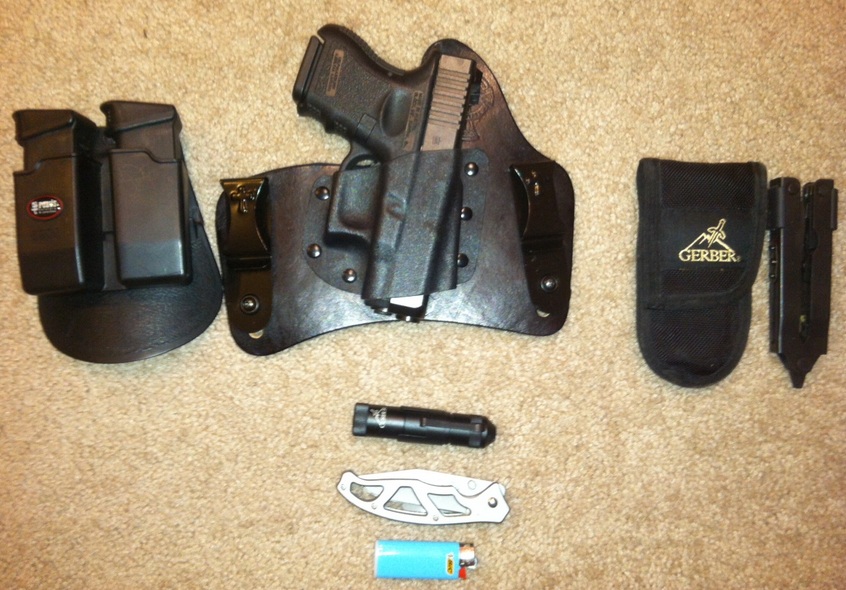 Personal Protection Loadout (Pistol, IWB Holster, Spare Mags).
I realize that this technically isn't one item but rather a collection of items, however they all still fall within the singular category of personal protection and concealed carry.  I prefer IWB holsters (Crossbreed especially) along with a Glock 27 and a few spare mags (in a FOBUS rig).
Knife
I have a simple Gerber folding knife which costs around $20.  It gets the job done and has a nice clip on it which allows me to secure it to the inside of a pant pocket.  I realize that there are much more expensive options out there but I've never had an experience where I thought to myself: "you know if I just had that $250 knife versus this $20 one I'd be much better off."  Your results may vary.
Flashlight
It's just too easy to toss a nice little red lens flashlight into your pocket and you never know when you might need that light to accomplish an important task. I've had to use mine during power outages which occured while I was away from home.
Lighter
I don't smoke but I always carry a lighter, this piece of equipment really needs no justification to carry.
Multi-Tool
When you need more than a knife this is the item to have.  I've used the pliers on mine quite a few times in addition to the various screwdriver heads and most recently the saw tooth blade.  An extremely versatile piece of equipment.
So there you have it, the 5 items I never leave home without.  What do you carry?