Food pouches are a great for a Bugout Bag as they are light and easily transportable.  Toss some hot water in there and you have a full meal, all you need is a spoon.  The typical shelf life of food pouches is around 7 years which makes them a nice option if you wanted to add a few buckets to a food storage rotation cycle.  I already had quite a few of the Mountain House food pouches but had not tried any of the ones offered by Wise Company, another heavyweight in the food storage industry.  I formulated a plan to conduct a review and contacted one of this blog's sponsors, AWBPrepper.com.  They were hip to the prospect of a review and promptly shipped out one of their Wise 72 Hour Emergency Entree Kits, valued at $29.56.  The kit comes with 6 meals, as you can see below.
I chose two of the meals from the Wise kit to match up to two of the meals I already had from Mountain House.  Here ladies and gentlemen are your contenders.
Test Methodology
Meals would be heated per instructions on each bag and then placed on a paper plate.  Taste tests would be conducted on each meal and the following criteria would be used for evaluation purposes.
Visual Appeal: Score of 1 – 5
Smell:  Score of 1 – 5
Overall Taste:  Score of 1 – 5
Besides the scores comments could be submitted if a judge felt like doing so.  For example: "This really tastes like the bottom of an old shoe…etc"
Additional Considerations
Before I get into the taste test, I thought to do a side by side comparison of the meals based on a few other factors.
Cost:  The Wise meals come in at around $5 each, so they are comparable to the Mountain House meals.  When purchased individually the MH meals can be a tad more expensive, but obviously there is also an option to purchase them in bulk from multiple suppliers (which would decrease their cost/unit).  I'd say this is a tie.
Nutritional Facts:  Because the meals and ingredients used are not exactly the same it's tough to compare Nutritional Facts line by line.  I'll just post up the pictures and let you decide for yourself which seems to be better.  At a quick glance the Wise did seem to have more protein.
************************Test Results************************ 

Chili Mac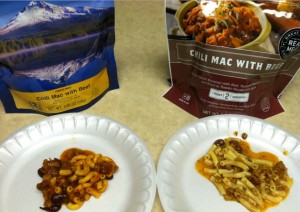 Mountain House Chili Mac with Beef
Visual:  5
Smell:  5
Taste:  4
Comments:  Smells good, almost tastes homemade.  Definitely has flavor versus the other brand.
Wise Chili Mac with Beef
Visual:  4
Smell:  3
Taste:  2
Comments:  Smells sort of like Hamburger Helper.  Taste is bland, could definitely use some salt.  Meat is dry and chalky.
Rice and Chicken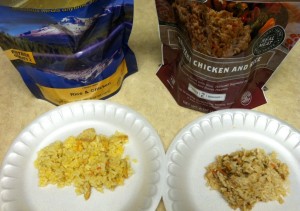 Mountain House Rice and Chicken
Visual:  3
Smell:  5
Taste:  4
Comments:  It's pretty decent, smells and tastes a little bit like chicken noodle soup.  The rice is good, nice and fluffy.  Has more flavor than the Wise brand.
Wise Teriyaki Chicken with Rice
Visual:  4
Smell:  2
Taste:  2
Comments:  Doesn't really smell like anything at all.  Tastes like nothing too, very bland, no seasoning, although surprisingly moist.  Yet…where is the Teriyaki?
The Bottom Line
Both of these products are comparable when it comes to price, availability, shelf life and ability to sustain you if the time ever comes (SHTF, Camping etc).  However given the option, based on taste alone I would select the Mountain House food pouches over Wise any day of the week.  The Mountain House pouches are simply better…and by that I mean they are significantly better.  Of course this is just my opinion and yours may vary.  Try both for yourself and then decide!