This is the first year that my family and I are attempting to grow anything edible, I say that because I did try to plant a money tree once but it failed to yield anything of value.  As someone who claims to be preparing for the worst, and especially someone who blogs about prepping you might be thinking that I have been slacking by not attempting to garden before this year…and you would be correct.  In a previous post about square foot gardening I did very little to deny my shortcomings:
I'll just come right out with it and admit that one of my weaknesses is growing food, or cultivating a sustainable food plan beyond what I have on shelves (read: non-renewable) in the basement. Ask me about fitness, tactics, prioritization, how to influence people, enduring freezing temps while wet and tired, tips for bartering…I'll lay it out for you like it's my job. Ask me to plant a garden in order to grow food which I can put on the dinner table and I'll probably hang my head in shame.
On April 29th I posted a picture as we began our food growing journey.  I'll go ahead and re-post it here, this is what our garden started out as under a lamp in our kitchen.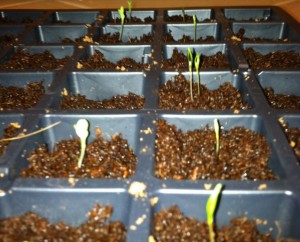 We were shuttling the plants outside each day (they had been moved to larger containers) and sometimes bringing them in at night but that got to be ridiculous.  So last week we decided to move the plants to their permanent home, a 3 x 3 raised bed garden which I built using shoddy craftsmanship at best.  In addition to the box I purchased 3 items: Compost, Vermiculite and Pine Bark Fines.  These would be mixed together in equal parts in the bed prior to the plants being given their new home.  All of this was based loosely on material provided in the book Square Foot Gardening by Mel Bartholomew.  Mel suggested Peat Moss for his mix but I couldn't find it in a few of the stores I checked out, hence the Pine Bark Fines as a substitute.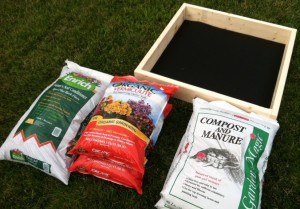 With my box finished it was time to add the mix in equal parts and transfer the plants over.  The box was filled halfway up and then watered to settle the mix, and then filled all the way up and watered again.  We added some grid squares and planted based on what type of plant and how much space they would need to adequately grow (again information provided in the book).  The list of plants which are in the box are as follows:
Zucchini

Tomato
Carrot
Pickle Cucumber
Cucumber
Lettuce
Spinach
Cauliflower
Cilantro
*Additionally we have a few pots which we added mix to and planted hot peppers, sweet peppers and more tomato.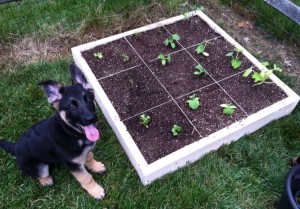 I hope you don't mind the gratuitous dog pic next to the garden, he's the GSD pup I've written about in the past.  At 12 weeks old he is still crate training, but he learns very quickly and is generally very even tempered.  That's dirt on his tongue, he tries to eat everything including the soil in the box.  If I tossed some roofing nails on the floor he would probably try to eat those as well, but I digress.
Anyways as far as the garden goes my expectations are low.  I'm thinking there are three possible outcomes I should be prepared for:
1- Everything dies
2- Everything gets eaten by critters
3- Most things die and what is produced is inedible
Don't get me wrong, my wife and I will be working very hard to maintain this garden in hopes that it will produce a glorious crop!  I figure if I keep my expectations low I won't be disappointed when things turn out ugly.  Either way this is a new experience which has been very enjoyable, we have already been discussing new things to try out for next season.  If you haven't tried growing your own food try stepping outside of your comfort zone like we did and give it a shot, you'll be pleasantly surprised how rewarding it can be.