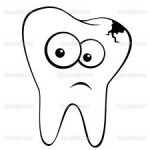 My buddy Ranger W, who happens to be a frequent guest contributor on this site always mentions dental care when I query him about relevant articles to write.  I've been blowing it off for a while so I decided to finally get down to it.  After all the topic is very relevant, you could be a mountain of a man but if your teeth are rotting out I guarantee you will not be as effective as you should be (if at all).  So what to write about?  I thought about dental kits, or literature, techniques when your local dentist in unavailable.  All of these are great topics but I've seen most of these passed around the internet on other prepping sites.  Then it hit me, what about my personal experiences with dental care in austere environments?  Ok sounds good, here we go.
I've never mentioned it much on this site (on purpose), but you'd have to be a blind and deaf person to not realize that I have some military experience.  I'll just leave it at that as I don't feel that tossing up my personnel file, as humble as it may be, is something that I need to do in order to validate the information presented on this website….but I digress.  Some of that military experience has put me in places overseas which were rather unfriendly and very unsanitary.
Two weeks prior to one trip overseas I had my wisdom teeth removed, all 4 at once.  A few days after the procedure I was in constant pain and the narcotics they were giving me did absolutely zero to help me.  Diagnosis: dry socket.  I'm not sure if you've ever had a dry socket after having your wisdom teeth removed, but as a man who has had many injuries that by FAR was one of the worst experiences of my life.  Utter and complete misery, for days.  Here's where it gets good, the dry socket was not going to keep me from missing my flight to paradise!  You know the one I'm describing, the beach with no water for hundreds of miles in either direction.
My mouth was still very much in the healing phase at that point but the good dentist decided to send me packing with some pills and medicated dental strips.  For the next two weeks, in various locations around the desert, in a tent with no air conditioning or any sterile equipment, those medicated strips had to be changed daily.  Here's how it worked.  I first had to find a buddy who wasn't afraid to dig around inside my mouth with tweezers.  He would take those tweezers and heat them up with a lighter to (hopefully) sterilize them.  He would then go into my mouth, back into my gum line and pull out the old disgusting medicated strip.  He would then take the new strip and slowly pack it into my gum line.  This was not a comfortable experience and it's amazing how I did not get an infection.  To this day I can remember those "treatments" like it was yesterday.  This wasn't done in some clinic or even a field ambulance.  This was two dudes, a lighter, on a cot in a dusty tent with no floor or climate control.
So what's the point to this story?  Allow me to relate.
People often overlook how important taking care of their teeth and gums are.  They take for granted that they will be able to hit up the dentist down the street if they have some pain.  As someone who had to take treatment into his own hands in a very austere environment, I can assure you that anything beyond what I went through (read: surgery, extraction) would have been asking for infection or complications.  I believe I simply got lucky.  Take care of your jibs (teeth) now, so that if T-SHTF you won't become a liability.  Even though many of us have dental equipment and dental books, most of us did not go to school to become Dentists.  Let's try to avoid the "buddy on buddy dental program" by doing what we can now to stay fresh and clean.  Brush, floss, get cleaned every 6 months!