For those of you who might be interested in acquiring a plate carrier in the near future, I give you a review / head to head competition of two popular brands.  This post will be heavy on pictures (click to enlarge), bullet points and rather lengthy.  Before I continue there are a few questions I should answer right up front.
Why did you choose Condor and Tactical Tailor?
That's an easy one, because I own both models.  The Condor MOPC is a very popular plate carrier and can be found for around $60 online.  I paid a premium for mine, a little over $100 because I wanted the Multicam pattern.  I also own quite a bit of Tactical Tailor gear which has always been of very high quality, and thus when I was in the market for a plate carrier (with quick release) I purchased a Tactical Tailor TTRAC.  These are quite a bit more expensive than the Condor, they can be found online for around $290.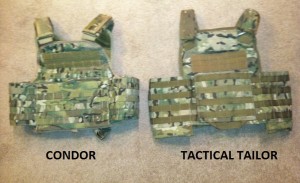 Why would anyone need a plate carrier, especially to carry body armor?
If you have to ask that question I guess you should also ask why anyone needs an AR15, or a 600hp Corvette, or a 5 bedroom McMansion, or a sailboat, or a 60 inch HDTV.  People buy plate carriers and body armor because they can, as law abiding citizens it falls well within our rights to go out and purchase these items.  There are practical purposes for plate carriers beyond that of the battlefield.  Maybe you enjoy shooting on your local range while wearing it or need it to attend a tactical rifle course.  Maybe you exercise while wearing it, play airsoft in it or maybe you have it "just in case" civil unrest breaks out.
What plates did you use to conduct the test?
Level 4 Rifle Plates from BulletProofMe.com.  The 10×12 Front and Back plates can withstand multiple hits from .3006 AP rounds, and the 6×6 side plates can withstand one hit from a .3006 AP round.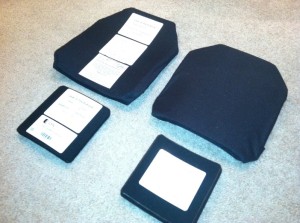 How did you conduct the test?  Did you climb mountains in Afghanistan and get into firefights while wearing them?
I did none of the above while wearing either plate carrier.  Although there are brave men and women serving in that capacity right now and facing real danger while I type this out, for that we should all be thankful.  As far as the actual testing goes I did some flat range fire just to check general comfort while wearing a rig (I wear a chest rig over top of the carrier, I do not attach gear to the carrier itself).  I also completed some physical training while wearing both.  While wearing the Tactical Tailor TTRAC with all 4 plates inserted I ran a little more than a mile (you'll find out later why I didn't run further) and did some calisthenics.   While wearing the Condor MOPC with all 4 plates inserted I completed "The Murph", a pretty intense workout which had me wondering why I voluntarily torture myself.
The Tactical Tailor TTRAC
The Tactical Tailor TTRAC is built with great attention to detail, the MOLLE webbing and stitching are MILSPEC if not better.  As a bonus, the "hook and loop" area (where you can put morale patches) also doubles as MOLLE webbing.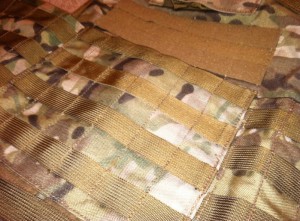 The interior of the TTRAC is pretty Spartan which surprised me given the price point.  There is no additional padding or breathable mesh material which would help with comfort or moisture wicking.  If you'll notice in this picture, the side plate pockets are huge.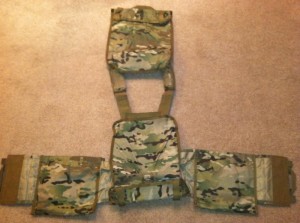 It's obvious that the side plates carriers were designed for a larger plate than my 6×6, but still I doubt a 6×8 would fill up the pocket completely.  There are no additional hook and loop restraining straps inside the pocket, and so the plate kind of bounces around inside.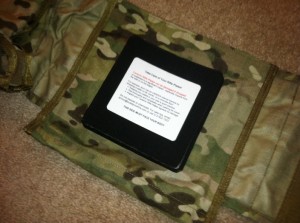 For some reason my 10×12 plates did not fit perfectly either.  If you'll notice the material of the TTRAC shows some strain, as if the plate was a bit too small and the material around it wrinkled up because of it.  There was absolutely no integrity issues with the material or the stitching and I had each plate fully secured inside the pocket.  Just something I thought was worth noting.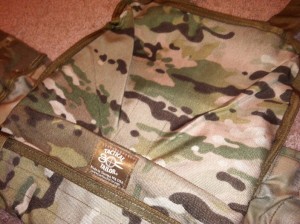 The TTRAC does have a very nice quick release system, which is absolutely essential if medical personnel need access to a wounded area.  The addition of this system is probably why the TTRAC costs a bit more than the Condor.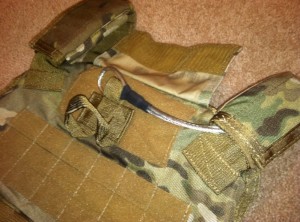 The Condor Modular Operator Plate Carrier
While the Multicam pattern is spot on, the MOPC clearly is not a match for the TTRAC when it comes to the MOLLE webbing on the carrier itself.  While it is still useful, not all of the slots are symmetrical and the material is not as nice as what is on the TTRAC.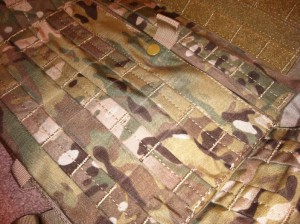 The interior of the MOPC is a winner.  There is a padded mesh material stitched to the inside of the carrier which helps with comfort and moisture wicking.  There are also side straps which use plastic fasteners to assist in keeping the MOPC close to the body.  I found them unnecessary but some people might like them.  They do not dig into your side while the carrier is being worn.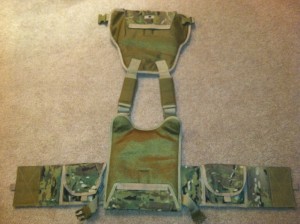 The side plate carrier holds my 6×6 plate perfectly.  You can see that the plate (when laid on top) is a near perfect match for the size of the pocket.  In this picture you can also see a close up of the plastic fastener and the interior mesh.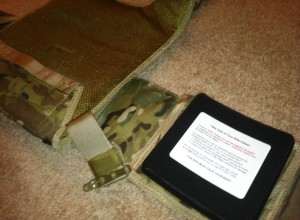 The front of the MOPC also has a map pocket which opens up after a little bit of effort is used to fight the hook and loop closure.  In the picture I'm just demonstrating by using a knife, you could also put some shears in there or maybe…a map.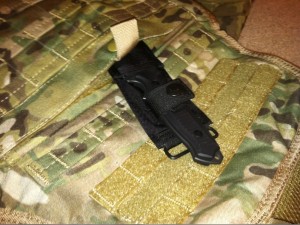 Overall Pros and Cons
Tactical Tailor TTRAC
Pros
+ Extremely high quality when it comes to stitching and materials used
+ Quick release device is a great feature
+ If you like to strap gear directly to your carrier, there is plenty of room to do so
Cons
– Side pockets for plate carrier could be smaller and have internal strap to secure plate
– Interior is very Spartan, no mesh lining
– Does not fit me well.  This is why I couldn't run further in the carrier while testing.  I'm an average guy with an athletic build, figure 5′ 11″ with a 46 inch chest and 33 inch waist.  Even with the plates in I could not get the carrier to fit tightly (and I adjusted the side straps to the maximum tightness in the back of the carrier under the flap).  While I was running I had to place my hand on the carrier under my neck and pull down, to keep the thing from bouncing around all over the place.
Condor MOPC
Pros
+ Very cost effective
+ Fits extremely well, I ran 2 miles in this carrier with no chafing or hot spots
+ Side pockets are spot on, mesh interior is great
Cons
– MOLLE webbing tolerances leave something to be desired
– Side buckles seem unnecessary
– No quick release feature
And the Winner Is….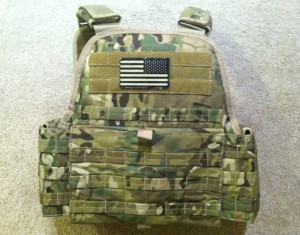 You guessed correctly, the Condor MOPC, seen here with all 4 plates installed.  This vest could use a quick release and a bit more refinement but at a price point of $100 ($60 for non Multicam colors) it really is tough to beat.  Don't get me wrong, the Tactical Tailor TTRAC is a great piece of equipment and I'm sure it has served many people very well.  Yet for me it just does not work out as well as I'd hoped.  Not to mention you can pick up three or four Condor MOPC's for the price of one TTRAC.  If you are in the market for a decent plate carrier to use on the range, depend on for SHTF, play airsoft in or simply fulfill all of your Call of Duty Modern Warfare dreams look no further than the Condor MOPC.
Disclaimer:  If you are wondering if it is legal to own body armor in your state or local area, make sure to do your own research before attempting to buy anything.  There are laws out there that prohibit certain individuals from purchasing/owning body armor and I have no idea if you fall into that category or not.  Check out this website for some more detail on owning body armor, as well as the FAQ page on BulletProofMe.com.