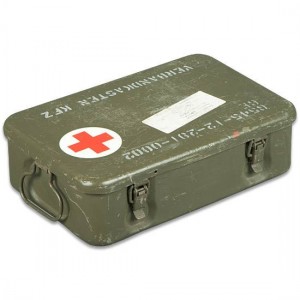 I was recently over at GA's website, Survive2balive.com and read a post about a few of the medical supplies he recommended for everyday first aid.  This got me thinking about my own medical supply plan, how I got started and eventually improved it.  I think it is very important to have a wide range of medical supplies for any number of scenarios that could occur on a daily basis or after SHTF, but there are also other factors out there which must be considered in order to make your entire medical plan complete.  Simply buying a decent first aid kit and tossing it on your basement shelf is about the worst thing you can do, slightly above not owning a first aid kit at all.  Medical preparedness must be taken seriously in order to increase your chances of survival.
Planning considerations.
I've written about how buying a gun requires extensive planning, in that you always should consider what you will use the gun for before making your purchase.  The same planning process holds true for selecting your medical supplies and forming your medical (emergency) plan.  This planning process should rank right up there with how much guns and ammo or food supplies you have on site but unfortunately medical preparedness is quite often overlooked because it isn't as sexy as the aforementioned topics.
In order to effectively plan you need to consider what scenarios you will encounter during which you will have to employ anything from your medical kit.  In most instances wounds post SHTF will be of that minor variety, simple cuts and abrasions, twisted ankles or back spasms.  People operating outside and doing physical labor when they aren't used to it.  Nothing a bottle of Aspirin, some Icy Hot, topical antibiotic cream and gauze won't be able to cure.  There are slight chances that larger or more life threatening wounds could occur and in those instances you will need to ask yourself if you are even qualified to treat injuries of that nature.  What good is owning a field surgical kit if the most you have ever done is apply an ACE wrap to a sprained ankle?  Do you really think that if someone in your family gets shot or almost hacks their leg off accidentally while chopping wood that you'll simply be able to flip to your handy "how to operate on people" surgical guide and fix them right up?  Don't kid yourself.  While it might not be a bad idea to own a surgical kit it would be an even better idea to establish personal relationships with (at minimum) your family doctor and family vet (if you have pets).  Also know exactly where the closest medical facilities are to your home and how to get there without a map (read: GPS).  Try to network in your local area and make friends with surgeons or at minimum EMTs who are used to treating trauma victims.  All of these relationships could end up being life saving if SHTF and you absolutely need to find someone with the capability to tend to the wounds I listed above.
Buying Supplies
You've planned for your scenarios and know what you are capable of and where to go if you encounter situations beyond your control.  Let me be clear in that just because you do not know how to conduct a field operation does not mean you shouldn't own some equipment related to surgery.  Maybe in a post SHTF environment the hospitals are overwhelmed or shut down but you still can get your friend the surgeon over to your home and provide him or her with the rudimentary supplies to help save someone's life.  Keeping that in mind let's take a look at some basic supplies which you should consider owning, this is not an all inclusive list by any means.
Skills / Knowledge.
Once you have a plan and have made a nice list of supplies the final phase is to acquire some reference material and knowledge.  Think of it as adding to your SHTF capabilities and your medical library which you can refer to when treating minor ailments, wounds, or even conducting lifesaving steps which will buy you time to get your loved one to professional medical care.  Even during times such as these where society is functional having some medical skills could pay huge dividends.
Medical treatment and care for all but the most basic injuries should be left to skilled professionals who are trained to diagnose and treat such injuries.  If someone at your home slices their arm open trying to cut down a tree branch by all means call 911 or rush them to the ER, this would not be the time to break out your emergency surgical kit in order to get a little "hands on" practice.  That said knowing how to apply a pressure dressing with your newly acquired skills and Israeli bandages could help to significantly stop the bleeding while on the way to the ER or while waiting for the ambulance to arrive.  In a post SHTF environment any or all skills/supplies which you have could absolutely be essential in saving someone's life.  So plan and prepare but make sure to keep things in perspective.  I hope this post has been informative and helped to shed some light on the importance of medical planning, a topic which often takes a back seat to the more sexy categories of survival preparedness.