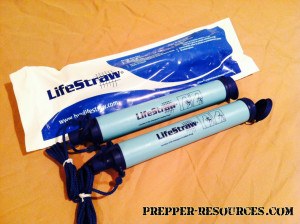 I know what you are thinking, wow PJ gets lots of free stuff to review from his sponsors.  Nothing could be further from the truth and I wanted to make this point right up front because I believe it is important.  Although I did receive a small discount , I recently purchased three Lifestraws from Campingsurvival.com because I felt these were valuable survival products worth adding to my prepper inventory.  I have to admit I can't believe I haven't purchased them before now, I can only attribute that to the fact that I already own a few Berkey Sport Bottles.  Still yet I now have three LIfestraws, one for each family member's Get Home Bag (GHB).
I'll just cut right to the chase and list 5 reasons why you'd be crazy not to own a Lifestraw, or a few if you have more than 1 GHB.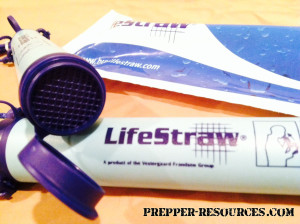 1- The price is right.  At $20 each you really can't go wrong for such a valuable item.  Water is life and I'd gladly spend $20 (the cost of a lunch date) to ensure I had a filtration system on me at all times.
2- You simply can't carry that much water in your BOB or GHB.  Water is heavy, trust me I know.  When you step off for a long walk and you have an extra 4 to 6 quarts on your pack you most definitely feel it.  If you want to move swiftly and carry less weight one of these straws is a perfect addition to what I refer to as an "assault pack" or even a cargo pocket.
3- Super user friendly.  You pop the covers off and drink, blowing through the filter once complete to keep it clean.  According to the instructions once you can no longer suck water through the filter, it's time to toss it in the trash.
4- It works.  Not only can it filter up to 1,000 liters of water (that's 1,056 canteens of water) it removes up to 99.9999 percent of waterborne bacteria and 99.9 percent of waterborne protozoan cysts.  Watch this video report from ABC News on the Lifestraw being used in Kenya, it will make you a believer.
5- The size is right.  Not only is it lightweight it is very portable.  The Lifestraw is no longer than a standard TV remote and half as wide.  For bags where space is a premium, such as my daughter's Get Home Bag, the Lifestraw is still small enough to fit down the side of the bag.
Miscellaneous Thoughts
The Lifestraw is a great addition to any survival bag or even the glove box of a car.  Not only is it very inexpensive it is super easy to use.  I tried it in a glass of water and although it took a small effort to prime the filter it was plain that the device worked.  The water did have a hint of plastic aftertaste but I'm willing to overlook that.  If I am ever in a situation where I need to drink from a compromised source (river/lake) my most likely course of action would be to drink as much as possible with the Lifestraw and then load up my Berkey bottle for refreshment while on the move.
The Bottom Line
I purchased 3 Lifestraws because I believe they add real value to my preps and will most definitely increase survivability in a SHTF scenario.  The ability to drink water without fearing sickness is key in any survival situation.  If you have the means I suggest picking a Lifestraw up for yourself, a few more if possible because for less than $20 each you really can't go wrong.  They can be found over at CampingSurvival.com via this link.