This past weekend my wife and I set out to work on our garden, this will be our second year growing our own food.  Last year we had one 3×3 box and it did quite well, we watched and learned as the growing season went by.  This year we decided to take things up a notch and make a few modifications.
– We wanted to expand to two raised beds
– Priority number one was finding a way to protect the garden from my dog
– The use of traditional plants from a nursery in addition to seeds provided by Averagepersongardening.com would be included
This was the result of about 2 hours of work which included the addition of a second box and mixing vermiculite, peat moss and compost for our soil.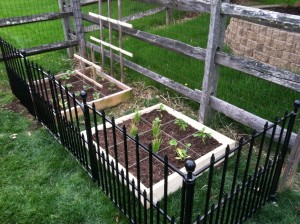 For sure we probably planted things too close together but our overzealous nature got the best of us.  I figure better to live and learn this way while we still can go to the store and buy vegetables from the produce section.   You might also notice that there appears to be areas where nothing is planted, that's where our Non-GMO seeds went in the soil and we hope to see something spring up here shortly.  On a final note, the fence was procured from Lowes…maybe I should have built something myself but time was a constraint.
So what's the status of your garden?  I know some of you out there have ACRES going on and have to be laughing at our itty bitty garden.  Any tips?