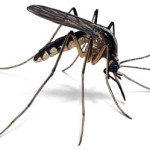 Mosquitoes LOVE to feast on me.  I can sit outside on my patio and get nailed 10 times within a few minutes by what seems to be a flock of mosquitoes, this while everyone else in the vicinity remains unscathed.  When I'm out in the woods if I do not sleep with heavy repellent on, usually combined with a head net of some sort, I'll be dominated all night long by the little creatures.  I once woke up with a lower lip the size of a baseball, must have gotten bitten by the godzilla of mosquitoes.
Realizing that my flesh is very appealing to mosquitoes I have an arsenal of repellent stockpiled away just in case T-SHTF and commercially available supplies run low.  However at some point the need could arise to manufacture my own secret sauce, and admittedly I've been ignorant on the topic until now.  As such I thought to do some poking around the web and assemble a collection of some of the most popular homemade mosquito repellent recipes which do not need to be approved by some sort of government entity.  Feel free to add your own in the comment section!
From Guru to the Outdoors
Ingredients

1/2 litre of alcohol

100 gram of whole cloves

100 ml of baby oil or similar (almond, sesame, chamomile, lavender, fennel etc)

Instructions:

Leave cloves to marinate in alcohol four days

Stir every morning and evening

After 4 days add the oil

It's now ready to use.
From Lexie's Kitchen
Ingredients:

1-1/2 tablespoons WATER

1 teaspoon CASTOR OIL

8 drops ROSEMARY ESSENTIAL OIL

8 drops LEMONGRASS ESSENTIAL OIL

4 drops GERANIUM ESSENTIAL OIL

Directions:

Add all ingredients to a 2 ounce amber spray bottle, shake vigorously and spray.

***Be sure to shake well before each use.***

Sometimes I double the recipe and use a larger spray bottle, but lately have been mixing up three bottles at a time of the 2 ounce size and keeping them by the front door, back door, and in the car.
From WiseBread.com
Ingredients: Minced garlic, mineral oil, and lemon juice

Directions:

Mince a few cloves of garlic then cover with mineral oil. Allow it to sit for at least 24 hours. Next you take a teaspoon of *just the oil* and mix it with 2 cups of water and 1 teaspoon of freshly squeezed lemon juice. Strain through a cheesecloth if you have any floaties then pour into a spray bottle. Shake before each use.
Some other good links to check out:
DIY: Homemade Insect Repellent Sprays and Lotions
20 All Natural Insect Repellent Recipes
Naturally Frugal Tip: Homemade Mosquito Repellent