Some recent updates on my Mossberg Home Defense Shotty.  If you watched the video I produced you'll remember that the ATI Components fit awesome with the exception of the new forend (not compatible with my specific model).  I wanted to mount my Streamlight via the ATI rail system which came with their forend but instead ended up going ghetto fabulous and mounting it to the standard heat shield.  Not optimal but it definitely worked.
I knew that I needed a more permanent solution, especially after test firing the new platform out on the range.  I purchased a Streamlight mag tube rail via Amazon for $18 and set about mounting it to the tube.  I had to cut the plastic piece which the upper heat shield mounted to but that was the only real modification necessary.  With respect to the orientation of the light, most people have lights mounted underneath their shotgun but I prefer it on the side.  This still allows me to flip the light on and off with my thumb while keeping a firm grip on the forend.  Whatever makes you the most comfortable I guess.  I'm happy with the end result and am confident this is a much better home defense platform (when considering the addition of a light, tactical stock and shell holder) versus the standard model.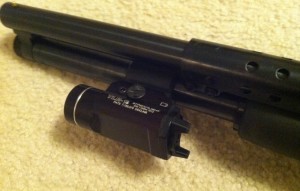 For things that go bump in the night in a home invasion scenario I would grab this shotgun over any pistol or even an AR15.  00 Buckshot is very persuasive…to say the least.