Hardtack:  The survival food cleverly disguised as a brick, wheel chock, or overly thick bathroom tile.  Whenever I think of hardtack images come to mind of a sailor gnawing away on a piece 500 years ago in the middle of the ocean, or more recently a Civil War era Infantryman chewing on a piece while on a 100 mile foot march.  Either way hardtack is just as relevant today as it was back then, maybe not as a daily meal but certainly as a survival food.  Thankfully hardtack is very easy to make and equally easy to prepare (if you are into that type of thing).  What follows are some simple steps I followed to make a batch of hardtack, followed by my preparation technique.  I should note here that I did cut a few corners, instead of grinding up my own wheat I bought a bag of whole wheat flour.
Recipe:  I got my simple recipe from Kenanderson.net.
– 4 cups of whole wheat flour
– 4 teaspoons of salt
– 2 cups of water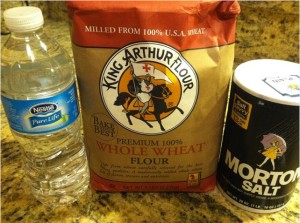 Mix the flour and salt together, add enough water so that the mixture will stick together but not your hands or the pan.  I added the water slowly until this consistency was achieved.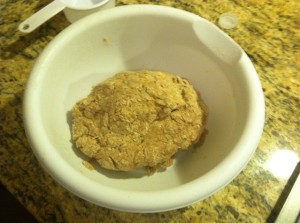 Roll the dough out onto your counter using a rolling pan or simply with your hands (as I did).  The dough should be about 1/2 inch thick once this is complete.  Cut into squares and poke holes into each piece of dough making sure not to poke all the way through.  Flip the pieces and poke holes on the other side, once complete they should resemble fat saltine crackers.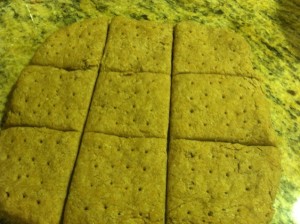 Place your hardtack onto a non-greased cookie sheet and stick it into the oven at 375 degrees, after 30 minutes flip your hardtack and bake for an additional 30 minutes.  What comes out will be very brick like in nature.  You could probably kill a small animal by hitting it in the head with one of these things.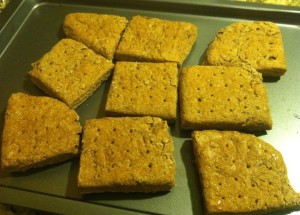 If you were on the move an absolutely had to consume your hardtack in this state I guess you could, but you would need a full canteen of water to accompany each piece.  I decided to soak my hardtack in a saucer of water (you can use milk) for a few minutes on each side and then toss it into a pan to fry.  You can grease the pan with butter, oil, bacon fat or some other sort of artery clogging agent.  I fried my hardtack for about 3 minutes on each side.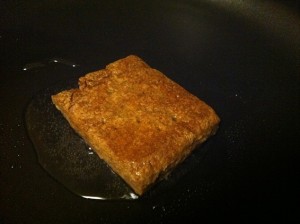 I have to be completely honest when I tell you that the finished product actually wasn't that bad at all.  One small piece would most definitely be enough to fill me up for a few hours and the flavorful crispy exterior combined with the soft(ish) center took my mind off of the fact that I had to chew and chew and chew to get this stuff to go down.  Hey, it's a survival food I guess I shouldn't complain right?  I suggest whipping up your own batch just to see what it's all about, I think you will be pleasantly surprised by your results.