I like Glock pistols, A LOT.  I do own other brands but I find Glock to be the best combination of affordability, functionality and reliability.  They are not in any way sexy but they get the job done.  Like any true pistol owner I have a container full of holsters.  Some were bought online, in gun shops, at gun shows, from friends, most were only used a few times before being banished to the container of useless items.
What I decided to do for this post was to pull out a few of the holsters which I have used quite a bit over time.  Take pictures of each and write out a few pros and cons for each.  One cool thing about all of these holsters (with the exception of the leg rig) is that I can use them with both subcompact (26,27) and compact Glocks (19, 23) with no issue.  Sure the sizing might be a bit off because of the different barrel lengths but it usually isn't a problem.
Crossbreed IWB Holster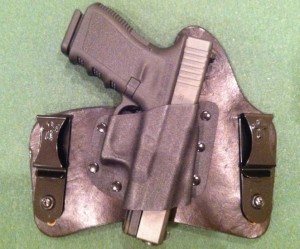 Impressions:  My all time favorite holster.
Pros:  Conceals very well (no printing, even in a T shirt),  very comfortable once broken in, spreads weight evenly.
Cons:  Takes a bit longer to put on than a clip on holster, slower break in period, higher cost (around $70), a bit slower draw than say…a Fobus Paddle holster that is carried openly.
Don Hume IWB Clip Holster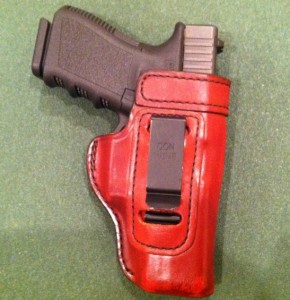 Impressions:  Would be my EDC holster if Crossbreed did not exist.
Pros: Very quick to slide into and out of your waistband, comfortable if set at the right position, low price point.
Cons: Clip is a suspect (I've had the entire holster come out of my pants while attempting to draw), does not conceal as well as the Crossbreed (especially if bending over).
Fobus Paddle Holster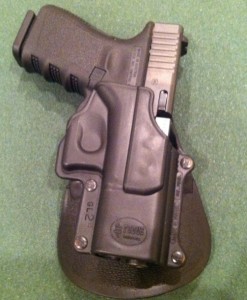 Impressions:  Would be my EDC holster if I decided to open carry.
Pros: Very easy to slide in and out of the waistband, very quick draw if carrying exposed.
Cons: Plastic paddle is somewhat uncomfortable, bad option for concealed carry (printing is bad with this one).
Leather Slide Holster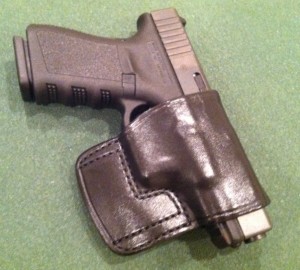 Impressions:  Very "Spartan" in design
Pros:  Cheap holster, rides very high past the belt line and close to the body
Cons:  Tough to break in (sticky draw), hassle to put on, not a big fan of where it rides on the body while worn.
Safariland Leg Rig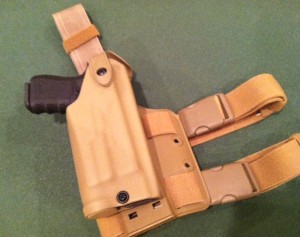 Impressions: Obviously not an EDC carry holster, but very well made and nice for tactical training purposes.
Pros: Quality holster that fits well, easy to put on and take off, nice smooth draw, can be ordered so as to accommodate a pistol light (see below).
Cons:  Cost is high, obviously bulky compared to anything listed above.
Misc:  The Safariland holster pictured above is configured to accept a Glock outfitted with a Tactical Light.