Band-aids are great when you have small cuts or open wounds.  Irrigate the wound slap some antibacterial goop on there and follow up with a band-aid, no big deal.  But what about when a band-aid won't work?  Suck it up and just deal with it right?  Not so fast Rambo.  Small wounds/sores can be the worst to deal with, especially when it comes to feet.  I've seen men who could probably go hunt a bear with a spoon go down because of a few small blisters/open sores on their feet.  Sometimes a band-aid simply won't work, so when the mission demands that you drive on a different type of solution is need.
Last week I purchased some new Asics running shoes.  I've been working on my 2 to 3 mile run time and doing quite a bit of interval training/speed work as well.  My current pair of Asics were about 3 months old and were shot, and as I have written about before I knew that it was time for a new pair.  For some reason the new pair of shoes (combined with my short "footy" socks) did not work out so well resulting in a pretty nasty open sore on the back of my left Achilles tendon.  Not keen on laying around for a week or more to let the wound heel, I searched for ways to mitigate the damage while continuing to workout.  I tried band-aids and they didn't stick (even the sport ones).  I tried using medical tape and it fell off, I even tried using duct tape on top of the band-aids and it would not stick.  After getting frustrated I decided to wear some taller socks and go for a run anyways, this was the result.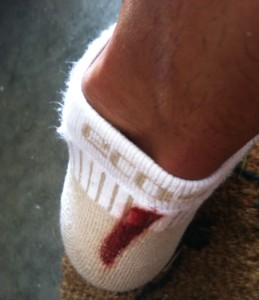 Obviously the above picture is not optimal and after that event the only way I wouldn't limp around was while wearing sandals.  If I put on socks and tried any pair of shoes/boots it would rub up against my sore and make things pretty uncomfortable.  I needed to figure something out which would allow me to continue mission (workout), thankfully my wife is much more versed in medical issues than I ever could be and had the answer.
My wife is an Operating Room Nurse (RN-BSN) and had the foresight to suggest that I purchase some Dermabond.  From a layman's perspective it's like super-gluing the wound, you just snap the capsule to activate it and coat the wound thus sealing it up and making things tolerable.  I was skeptical but my wife insisted we give it a go, I couldn't believe how well it worked.  Here is what the back of my ankle looked like prior to the application of the Dermabond.  If you look closely you can see the residue from where I tried using Duct Tape to hold a band-aid in place.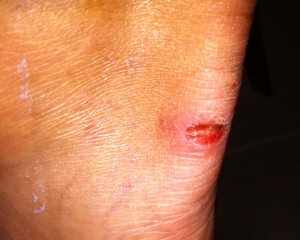 Here is a picture of the Dermabond, and my wife applying it to my wound.  I should note that I made sure to wash it very well before going through this procedure.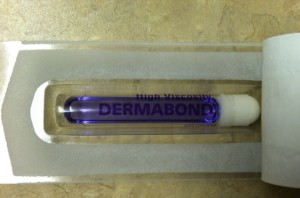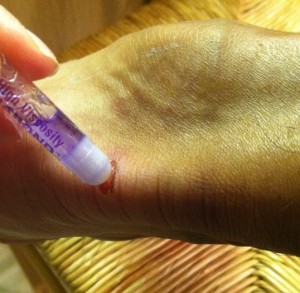 Once the Dermabond is applied it hardens into a nice clear protective layer.  I was able to walk around just fine about 15 minutes after this procedure and was able to workout the very next day.  I ran with no issues whatsoever the day after that as the wound continued to heal.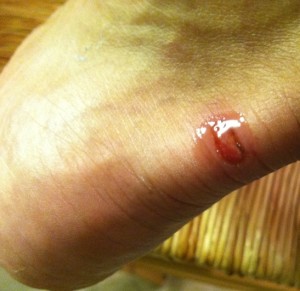 At around $30 a vial Dermabond surely is not cheap.  Yet it could be looked at as just another tool in the kit, something to use when other methods are not available or simply will not work and the mission requires that you must drive on.  i suggest grabbing a few vials and sticking them in your medical kit just in case.