Topographical maps are a great resource and will become absolutely invaluable if T-SHTF.  Topo maps allow you to do so much more than your standard road atlas in that you can accurately plot routes (if on foot with a compass), estimate elevation and easily identify major terrain features around your homestead.  Recently Ranger W. wrote an outstanding article detailing how to download free USGS Maps from USGS.gov.  While a great tool I thought to seek out alternatives, if only for the heck of it.  I wanted to find another company that would allow me to build a map to the following specs:
– 24×36 (or larger) mapsheet
– Fully laminated (which allowed for the use of dry erase markers)
– 1:50,000 scale
– 1,000 meter MGRS (Military Grid Reference System) grid lines
– Relatively cost effective
I found that I was able to meet all of these specifications and build a custom mapsheet while visiting MyTopo.com.  The process is very simple and prices start as low as $14.95.  I believe with shipping my total cost for a fully laminated map was around $35, not too bad.  Once you visit the site, you simply click on Start My Custom Map, and then enter an address (or GPS coordinate).  For the purpose of this exercise I chose Little Rock, Arkansas.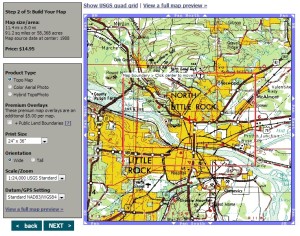 I should note here that I then changed the scale to 1:50,000 because it gives you the most area on the printed map.  In the default mode of 1:24,000 you get around 91 square miles, in 1:50,000 you get 393 square miles of map sheet.  While not the most detailed map sheet it will be sufficient for most tasks.
The next page asks what type of map you would like, I went with the most expensive variety (laminated and rolled).  Once complete with that selection you are able to further customize your map sheet by adding a title, subtitle, owner, in addition to choosing navigational grids and shaded relief.  I chose not to add Lat/Lon lines but did enable full MGRS grid lines.  I also did not include relief shading.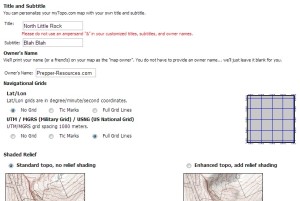 From there all that was left to do was preview my map, and then place my order!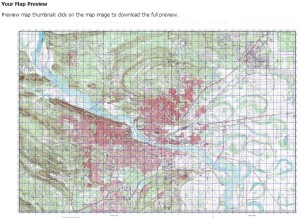 In addition to your map make sure you have a good military style lensatic tritium compass, a protractor and nice set of marking (alcohol) pens, with eraser.  If you don't have the eraser you can use rubbing alcohol.  If you end up buying the map and everything else I listed here but have no idea what to do with any of it, start by reading up on this manual.  Enjoy!