Day 7, Leg 2:
Spent restless night close to bridge last night because planned campsite was under water. All the rain has river high and flowing swift. Moving before daylight to give me more time to scout some oxbow lakes and make tonight's campsite. Datrex for breakfast along with half canteen of water. Used uv paqlites for general lighting and they worked well enough to pack up and push off. Charged iPad from 10% to 40% on lantern battery. iPhone is at 50%, so will configure solar panel so it will recharge lantern battery as I move at first break.
Scouted two nice oxbow lakes. Totally secluded and not as stained as river. Found two nice, potential locations for caches, marked and tried fishing for about an hour. Caught one large mouth bass about 2 pounds – did not meet size requirements for area of river so released (would have saved in SHTF event). Got several more bites.
Passed under one well traveled bridge. Had boat landing and vehicles parked with empty boat trailers – figure fishermen. Encounter first people on river just out of sight of bridge – figure fishing for white perch / crappie along high bank. Wave as I paddle by, of course they stare. Hear another boat approaching from south, bunch of rednecks almost swamp me with their wake. More houseboats than I remember last time I was on river.
Lunch Datrex and peanuts.
Afternoon uneventful, other than getting checked by game wardens. Took about an hour but they provided valuable intel on which bridges/boat landings and campsites to avoid. Apparently busted up couple of meth labs along river and were running meth up and down river in boats. Told them I am a survival instructor scouting out new areas for courses.
Arrived at camp with very little daylight left because of delay. Set up camp on a literal island shaped like a horseshoe. Since rain unlikely, opt for hammock and poncho/poncho liner. Should not have to worry about being disturbed by humans. MRE for dinner, then turn in.
Day 8, Leg 2:
Slept a little later than normal. Making good time so not a big issue, intend to scout island before heading out and get some elevations for potential cache locations. Will pull historical river levels to see how often, or if island ever floods. Take time boiling water using kelly kettle – drinking water. Will opt for some instant oatmeal instead of Datrex.
Fish while water boiling and land one bream about hand sized and one bass. Released both – not hanging around long enough to dress and cook. Need to add fish stringer to my BOB list – could make one from 550 cord if necessary.
Amazed at efficiency of Kelly kettle – will do full review later. Oatmeal and coffee hit spot. Solar lantern working well too – used to charge cell phone from 30% to 98% – have not used lantern yet though. Spring loaded fire starter does not work well – thought it might be answer to my wife's issue with typical fire steel – it "works" but not something I want to rely on.
Scouting island, very strange – almost like someone dropped horseshoe. Narrow on top, pretty steep sloping banks on both sides. Some but very little obvious human presence – seems to be spot fishermen might take breaks. No signs of much camping. Two concerns with cache locations here: covered with water? Or floating away? Marked spots on GPS, will research elevations versus river level.
Traveled river without incident. Encountered two boats fishing. Explored one creek that feeds into river – amazing how fast water goes from being muddy to almost clear. Nice creek, plenty of decent campsites along edge – does not seem to be lot of people traffic along banks. Yellow flies out, beautiful day other than that. Wish lantern came with charge indicator.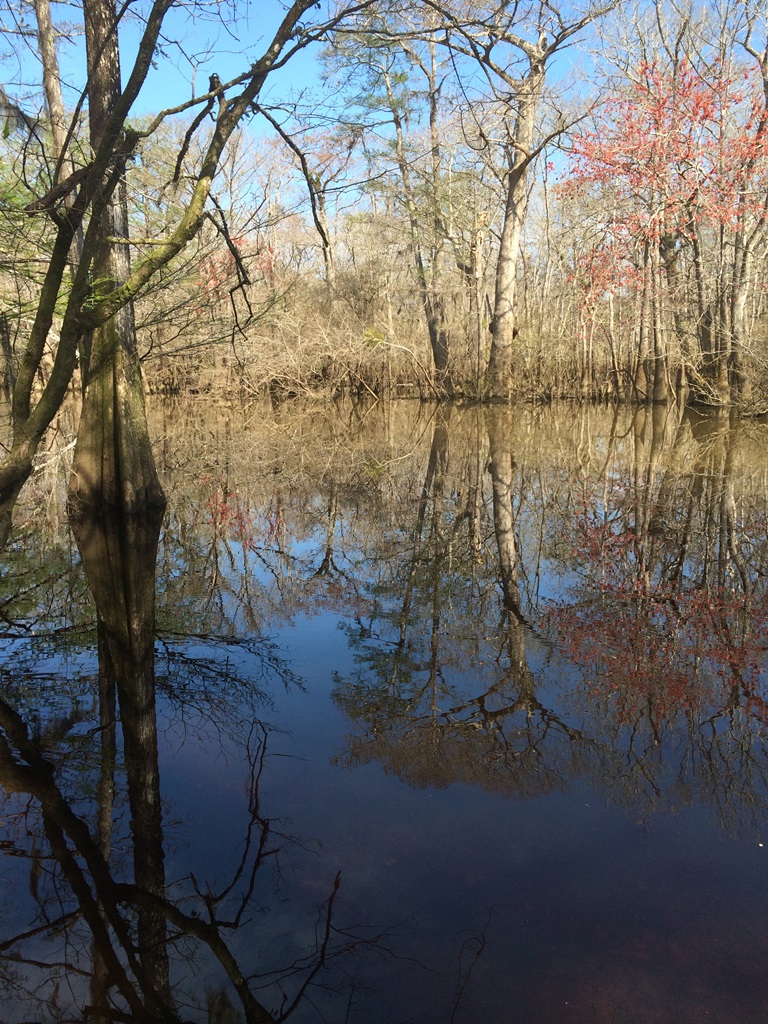 Settling in for night. River is falling but planned campsite still under water or swampy. Enough room to beach boat but plan is to sleep in boat tonight. Too late to chance attempt at finding suitable campsite. Another MRE dinner, boiled water tastes better than chemically treated but will chemically treat tonight. Secure boat, rearrange gear and crash. For some reason, more tired today. Bugs out, so apply some insect repellant.
Day 9, Leg 2:
0200 and startled awake by sound of a woman screaming. Fully awake, realize it is a cat – big cat. Reminds me yet again that there are some "real world" security issues but need to be thinking about post-SHTF security. Kinda just been going through motions. Listening, cat seems to be moving away from my vicinity. Try to go back to sleep.
No luck getting back to full sleep. Kept picturing big cat in trees above me. 0400 and pretty much wide awake. Feels wet and wind blowing – probably more rain moving in. Make oatmeal over Kelly kettle while boiling water in chamber. Need to see about adding camp kettle to wife's kit. One thing about Datrex and oatmeal, they seem to counteract the irregularity MREs have on my system. Wind is strong enough that it may pose problems navigating main channel. In real BO, would probably hang here or find next suitable campsite and wait it out. Boat pickup scheduled for noon tomorrow, so do not have that option this trip. Weather being what it is, do not imagine will have to deal with boats up and down river today.
Packing up pretty simple, just rearrange gear for balance and head out. Two oxbow lakes to recon today, so will need to move fast as possible.
Current not as bad but wind is pretty tough. Missed entrance to first oxbow lake because wind kept me pushed out. Second oxbow was nice and it was a nice break from wind. Took lunch and break there before tackling the river again.
Rain started. Not heavy yet, not much trouble, hope it stays this light.
Remainder of day uneventful. Rain slacked off and just cloudy, wind blowing and temperature dropping. Will have to find alternate campsite to get out of wind.
Found a cove sheltered from wind. Will have to sleep in boat again though, which is not ideal. Beach boat, set up for evening. Tie extra poncho to corners and end of boat, arrange gear to make adhoc shelter to block wind more and keep rain off if it starts again. Use UXO candle and candle holder to provide a little warmth. Chemically treat water, part of MRE for dinner (getting old) and turn in. Last night on river, looking forward to stretching my legs out again.
Day 10, Leg 2:
Datrex breakfast, ugh. Did not rain anymore through the night and stayed reasonably warm. Slept fine, have bit of sore throat this morning, not sure if coming down with something or all pollen in air. Eat a peppermint while I pack up, it helps. Text brother to make certain he is on schedule to meet me at landing to retrieve boat and extra supplies. Head out.
Do quick recon of planned campsite since wind laid, GPSd cache site and continued toward creek for landing. As usual, brother is ahead of schedule.
Make entrance to creek without incident, paddle upstream toward landing. Ahead of schedule so decide to check for potential campsites, hole up locations along creek. Appears area is prone to some flooding – took some elevations and will check history. Find shady spot to wait just short of boat landing – start to arrange gear / boat for trailering and make sure everything is packed right to start walking again. Check maps, eat leftover parts of dinner MRE and take a cat nap. Text wakes me up.
Paddle into landing, load boat up – brother informs me I smell something awful. We do not talk long and talking seems a little strange, head out on foot. Five miles to planned campsite by road then two overland. Plan to hole up for afternoon and evening short of last State Highway and last paved road I will see for a couple of days.
Arrive at campsite, drop ruck and start scouting toward state highway. Area has seen very little foot traffic in a very long time. Observe highway from distance then scout up and down for best possible crossing point. Find what I am looking for and start working my way back toward camp. On the way, I find a potable water point that timber company put in – check water for smell and clarity – seems ok, take break and drink through Lifestraw bottle to see if any taste issues – none. I mark the location on the map and GPS it. Seems to be an artesian well of some type, water is cold, cold. Continue working way back to camp, seeing few large game trails, mostly small game.
Arrive back at camp and change out of clothes been wearing for five days and hang them up to air/sun them out some. Head back to potable water point to fill kelly kettle. Temperature still dropping and wind picking back up. No open fires allowed in area so… Start kettle to boiling and decide on rice & black beans to change things up for dinner. Dinner hit spot, along with two cups of coffee. Throat still sore, so may be coming down with something – in real BO situation could be major. Break out sleeping bag and nest inside poncho/poncho liner in case temps drop more than I expect. Repack everything and lay M1A Scout and 9mm where I can get to it – new threat in area, black bears. Turn in for night, felt good to stretch legs today.
Tomorrow starts the home stretch….