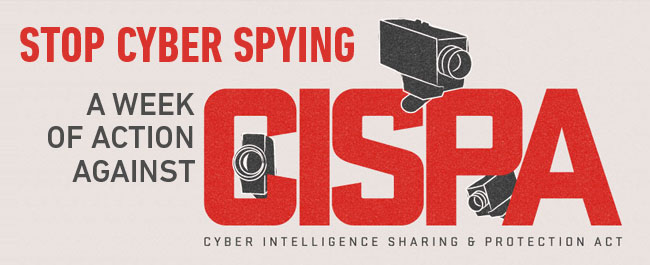 CISPA Cybersecurity Bill Passes House, Again
A year after the U.S. House of Representatives first passed CISPA, the Cyber Intelligence Sharing and Protection Act, it passed it again today. The controversial legislation now heads to the Senate, where it died last year.

The act, which would increase the information that is shared between the government and technology companies in hopes of preventing and protecting the country against cyberattacks, passed the House with a strong bipartisan vote of 288 to 127, with 18 abstaining. Last year, the bill passed the House by a vote of 248 to 168, with a Republican majority.
Talk Begins of April 22 Online 'Blackout' in CISPA Protest
No sooner had the House of Representatives passed the Cyber Intelligence Sharing and Protection Act (CISPA), on Thursday, than word began spreading of an online protest. Some are suggesting the protest take the form of a "blackout" – going offline for 24 hours, displaying censorship bars over content or posting statements of opposition to Internet censorship — similar to last year's opposition to the Stop Online Piracy Act (SOPA) and the Protect IP Act (PIPA).
 PETITION: Stop CISPA (Cyber Intelligence Sharing and Protection Act)
CISPA is about information sharing. It creates broad legal exemptions that allow the government to share "cyber threat intelligence" with private companies, and companies to share "cyber threat information" with the government, for the purposes of enhancing cybersecurity. The problems arise from the definitions of these terms, especially when it comes to companies sharing data with the feds.

Please sign and share this petition so that we can protect the internet and our privacy.