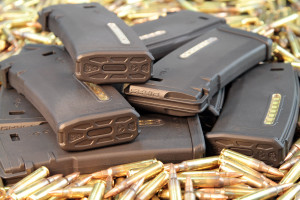 Lots of hype concerning ammunition and magazines these days.  With some lawmakers pushing to restrict online ammo sales and magazine capacity (in some states this has already happened) the market and consumers have both reacted.  Supplies are slim, with "in stock" notification emails going out and quantities being snatched up in mere minutes.  Prices are higher than normal with consumers willing to pay almost double the going rate compared to this time last year, fear of continued shortages and pending legislation continuing to spur sales along.  Some people are buying just for the sake of buying, continuing to stockpile while telling themselves "just one more order and that will be it, I'm sure of it."  Others are even purchasing on credit, telling themselves that this circumstance surely justifies using the plastic, after all in a few more months the opportunity to purchase could be gone altogether.
What's the end state of all this?  What should our goal be when it comes to stockpiling ammunition and magazines?  The answer should not surprise you:  it depends.  There are many factors to be considered when trying to answer this question, but the main ones are most likely related to one's financial disposition and the amount of time dedicated to shooting every year.  Additionally and more importantly, as I have written about before it's is not always about guns and ammo.  If you have 3 months worth of food and water, a $20 first aid kit, but 100,000 rounds of ammunition and 50 PMAGs for your stockpile of 10 AR15's I'd say something is wrong with your prioritization techniques.  So let's keep all that in mind and take a look at four categories of ammunition and magazine stockpiling recommendations.
The Minimum.  For those who are tight on cash flow but still want to devote some attention to keeping a basic stash on hand.  These types probably get out to shoot a few times a year just to maintain a basic level of proficiency.  Purchasing ammo or mags is usually done in much smaller quantities, boxes of 100 rounds at a time and 1 or 2 mags online.
Rifle Mags: 4 per rifle.
Rifle Ammo: 500 rounds each.
Pistol Mags: 2 per pistol.
Pistol Ammo: 200 rounds each.
Monthly Shooter.  Individuals who get out to the range once a month (or so) and burning up a few hundred rounds while in the process.  Run through a few simple drills but all rounds are specifically allocated before even heading out.  They will shoot 200 rifle rounds, 50 pistol rounds doing X number of drills and that's it.  They aren't rich by any means but can afford to shoot and purchase on a regular basis.
Rifle Mags: 8 per rifle.
Rifle Ammo: 2000 rounds each.
Pistol Mags: 5 per pistol.
Pistol Ammo: 1000 rounds each.
Optimal Stash.  These individuals have a little more freedom with their cash flow and can afford to stock crates a little deeper after purchasing online.  Maybe they don't go to the range more often than the monthly shooter, but they definitely don't worry about round count or allocating each mag for a specific drill.  Sure they will do some training but why not do a few mag dumps for the heck of it.  They stockpile to shoot, to barter and because they like not having to worry about price fluctuations.
Rifle Mags: 12 per rifle.
Rifle Ammo: 5000 rounds each.
Pistol Mags: 10 per pistol.
Pistol Ammo: 3000 rounds each.
Money No Object.  As some call it, Big Willy Style.  Why not buy 10 ARs and 10 Wilson Combat 1911's, it's only money!
Rifle Mags: 30 per rifle.
Rifle Ammo: 100,000 rounds each.
Pistol Mags: 20 per pistol.
Pistol Ammo: 50,000 rounds each.
I should make one point before closing this article out.  If you are going to buy magazines please do not buy cheap.  By cheap I mean the Chinese knockoffs that are 1/3 the cost of factory (or other higher quality) magazines.  Most of the time you will only be disappointed with the performance you get from those things.  If you are worried about your stash being too light at the present moment, it would appear as if prices are stabilizing so that's a good thing.  Supplies are still tight but that will soon start to stabilize here in the next few months (I hope).