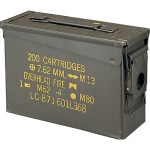 Ammo cans are a prepper's best friend. 30 cal and 50 cal seem to be the most popular variety of ammo cans although they come in all sizes.  Some time spent searching around online will yield decent prices ($9-$12 each). Besides storing ammunition there are quite few additional uses for these cans, it would seem you are only limited by your imagination and skills in custom fabrication. Below are a few of the most common uses that you might not have thought of.  Feel free to add your own ideas after the post in the comment section.
Fired Brass: Keep your once fired brass sorted in separate cans prior to reloading them.
Magazines: Loose magazines can be stored in cans, better than having them dump out onto your feet when you bump against one of your shelving units.
Gun Parts: Keep spare parts and the tools to work on your guns inside an ammo can
Cleaning Kits/Range box: Easily stored and transportable, take your can filled with all of your cleaning supplies and range accessories inside a can (or two). You can also use the can as a bench rest once you get to the range.
HAZMAT: Items like roadside safety flares are nicely protected inside ammo cans.  Just be careful not to store them in a place where they are exposed to direct sunlight.
Survival Kit: A small survival kit could be stored in your trunk, which contained small amounts of all the major essentials (food, water tables, medical etc)
BugOut Grab-n-go: Several ammo cans packed with different types of gear are easy to grab, easy to stack, and very resilient to being tossed around in a BugOut scenario.
Faraday Cage: When properly insulated, an ammo can could provide protection against an EMP pulse for some of your sensitive electronics (2 way radios).
Important Documents: Toss some of your important personal information and hard drive backups into a can, and then put a lock on it.
Stove: That's right, you can make a stove out of an ammo can.
Tire chains: Store your winter chains easily in cans, toss them in the bed of your pickup as a counterweight as well.
A chair: Why not?